Here is a preview of the magical and uber glamorous makeup collection from Dior – Golden Winter.
The promo with Daria Strokous looks very festive and holiday season appropriate. And I personally like to see fuchsia and purple, for a change, not red (not that I don't love red, but that is a very obvious choice).
What about the collection itself? Dior offer retro-chic golden bottles and tubes (like the last year's collection), here are the details.
Diorific Jewel Manicure Duo
Gold nail lacquer base & crystal pearls
 Diorific Perfumed Illuminating Powder
001 Rose D'Or and 002 Perle D'Or with J'adore scent.
Diorific  Long-Wearing True Colour Lipstick
 Ruby red, frosted beige, icy rosewood, pink gold, raspberry brown or fuchsia.   038 Diva, 041 Etoile, 042 Winter, 043 Joy, 045 Royale, 046 Minuit.
Diorific Vernis
Pure fuchsia, ruby red, plum sprinkled with gold glitter and ultra-shimmering pink gold…128 Winter, 318 Frimas, 775 Royale, 751 Marylin, 995 Minuit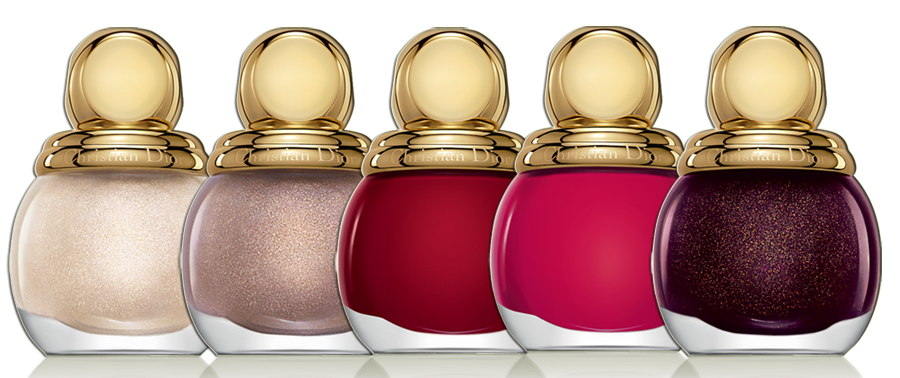 5 Couleurs Couture Colour eye shadow palette
634 golden flower  and 644 golden snow
3 Couleurs 
Diorshow Fushion Mono

Diorshow Liner Waterproof
Rouge Serum
330 Golden Amber Serum and 340 Golden Pink Serum
Dior Addict Gloss
451 Enchanted Rose and 776 Pink Fantasy
So what do you think? I may have to have to take a look at those gorgeous lipsticks in person.