Do you love Cate Blanchett as much as I do?
She always looks wonderful. Do you want to know what is she using?
Skin and hair care
1. SK-II Facial Treatment Mask – $120/10 sheets
Cate: It's like a vitamin drink for my face
Short Description
SK II Facial Treatment Mask 10 Sheets. An intensive moisture-boosting mask which gives you 10 times Pitera, to help restore skin renewal to its normal 28-day cycle.
Detailed Information
Beauty Tip – For better permeation of SK II Pitera and optimum results, use SK II Facial Treatment Clear Lotion before applying SK II Facial Treatment Mask. Follow SK II Facial Treatment Mask with your chosen SK II moisturizer.When your skin needs extra help, SK-II offers a full range of Special Care products that pamper your skin. A reviving, relaxing full facial treatment which literally drenches your skin in Pitera, and gives you an immediate youthful glow. The Facial Treatment Mask boosts radiance and moisture levels, and can be used as a natural complement to other SK-II skincare products once or twice a week, depending on need and skin type. Deeply hydrates your skin, just like a facial, leaving skin noticeably more radiant, soft and crystal clear.
How To Use
Use SK II Facial Treatment Mask once or twice a week depending on your skin's condition. Apply Treatment Mask after cleansing your face with SK II Facial Treatment Cleanser.
Remove SK II Facial Treatment Mask from its silver sachet and gently unfold. Carefully place the mask squarely over your eyes and carefully spread it over the entire face — adjusting around your eyes, nose and mouth. Use your fingertips to gently press SK II Facial Treatment Mask over the face's contour. After 10 minutes, peel off the mask and simply wipe-off any excess liquid with a cotton pad or ball and allow any remaining liquid to soak in to your skin.
There is no need to wash your face after using SK II Facial Treatment Mask. Apply your chosen SK II moisturizer, thoroughly blending into your skin.
2. Colorescience Sunscreen – $50
Cate: The sun in Australia is really strong. I never leave the house without protection.
Colorescience Sunforgettable Brush SPF 30 – All Clear: An entirely new way to protect yourself from the sun.
Description: Sunforgettable is an incredible clear, weightless powder that provides long-lasting SPF 30 sun protection. This brush-on mineral formula is free of dyes, chemicals, colorants and odors, making it ideal for anyone and everyone – men, women, children, even people with rosacea or eczema!
This powder will keep your skin cool and can even be applied and be effective on skin already reddened by the sun. It is effective after skin peels, laser resurfacing and most surgical procedures. It will not burn your eyes, rub off on your clothes or come off in water.
Sunforgettable has now received the FDA seal of approval and the Seal of Recommendation from the Skin Cancer Foundation of America.
Recommended Use: Apply generously and uniformly before sun exposure, repeat application after perspiring, immersion in water or toweling. Application brush should be cleaned regularly with Colorescience Makeup Tools – Brush Cleaner Spray for optimal results and ease of product usage.
Active Ingredients: Titanium Dioxide (12%), Zinc Oxide (12%)
Inactive Ingredients: Bismuth Oxychloride, Calcium, Cilicate, Corallina Officinalis, Dimethicone, Dimethicone/vinyldimethicone Crosspolymer, Iron Oxide, Manganese, Violet, Mica, Titanium Dioxide.
Sunscreen: SPF 30+
Makeup: Mineral Makeup
Ingredient: SPF, Zinc Oxide, Titanium Dioxide
Skin Care: Sunscreen, Water Resistant
Application Area: Face
3. Philip Kingsley Conditioner – $28
Cate: It makes my curly hair soft and managable
Moisture Balancing Conditioner
For medium textured wavy hair of any length, with or without chemical or heat processing. For fine textured, limp or lightweight hair with chemical or heat processing or longer than shoulder length. Helps sustain the correct balance of moisture along the length of the hair, leaves hair soft, lustrous and tangle free. Ideal for children's hair.
Makeup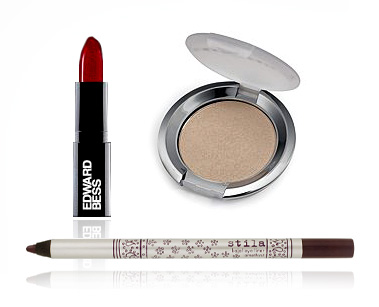 1. Chantecaille Eye Shadow in Pyrite  and Aqua – $28 each
Cate: Taupe is for every day; blue is for special nights
Shine Eye Shadow is a light-textured shadow with a wonderful pearlescent glow. A high density of real pearl create its fine, crease-proof consistency that actually smoothes unevenness. Worn on its own, Shine Eye Shade creates a wash of liquid iridescence or creates a bright accent for matte shadows.
2. Edward Bess Lipstick in Eternal Passion – $27
Cate: A pure red. It's the perfect shade for my skin
Irresistable  radian color delivers hydration in a longlasting formula, smoothes and shapes with silicone and vitamins A and E for a sensual pout. Delicately scented with subtle fragrance of wild fig.
3. Stila Eyeliner in Tigers Eye – $18
Cate: A rich creamy brown that's easy to apply
Kajal eye liners are formulated to mimic the ultra-soft texture of the indian eye darkener of the same name. The luscious formula is silky smooth and glides on perfectly, without dragging across the most fragile skin around the eye area. Delivers bold, clear, true color that blends easily and beautifies.
List of products from InStyle, information about products from official websites