Oooh, finally the details about the collection  from MAC that  I have been waiting for! MAC and Gareth Pugh collaboration!
LOVE the promo image, I am not disappointed. So fierce and  beautiful…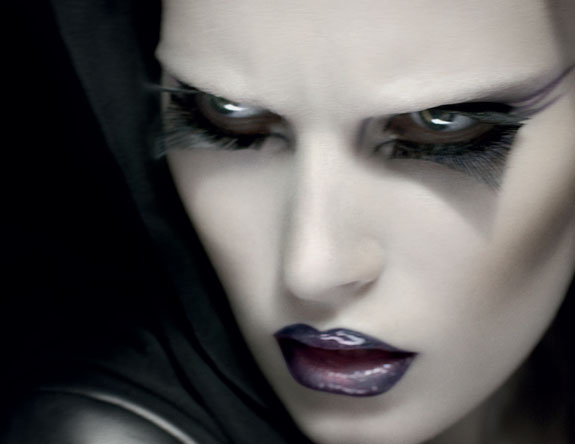 Here is what Gareth said about the collection:
"When creating my makeup collection with MAC I wanted it to be unexpected — creating something truly beautiful, very sophisticated, and incredibly chic but of course — with an underlying edge of darkness and attitude."
Collection includes:
Lipstick
Fervent, Blackened berry (Satin)
Restrict, Creamy greyed nude (Cremesheen)
 Lipglass
Vacant, Sheer light lavender grey with violet pearlized pigments
Outrage, Sheer berry with blue pearlized pigments
Beauty Powder
Elude, Translucent neutral beige
Buffer Brush
Studio Fix Boldblack Lash Mascara
Technakhol Liner
Graphblack, Rich graphic black
Greyprint, Rich pewter grey with frost
Metal X Eyeshadow
Obscura, Frosted gunmetal grey
Ardent, Frosted blackened burgundy
Powder Blush
Strada, Grey brown (repromote)
 Pigment
Deceit , Blackened plum with pink pearlized pigments
Guise, Frosted grey
Lashes
 Flight Lash, Dense, geometric triangle lash
Nail Lacquer
Inert, Creamy mid-tone grey nude
Ascension, Grey with blue-violet reflective pearl
Hyper, Deep blue with violet-blue pearl
Square bag with geometric, high gloss and matte geometric design on front and back. Interior pockets and elastic loops.
It should be available at the end of November.
I want pretty much everything. But if I had to choose ( by looking at promo photos and descriptions) I'd go for both lip glosses, Ardent eye shadow, Deceit pigment; the nail polishes look awesome, too. No, actually, I can't choose, I want EVERYTHING!