While Chanel is all about the pink and silver shades, Guerlain's main colours for Christmas are rich navy and gold, which is a beautiful combination.  This collection is inspired by India, and the rich colours from the Indian culture. Let's take a look at the products.

Guerlain  Souffle d'Or de Shalimar ($98) Perfumed Iridescent Powder for Hair & Body. Fine shimmery gold powder for body and hair, subtly perfumed with Shalimar Souffle de Parfum notes (Vanilla, Bergamot and Orange Blossom).
 Terracotta Terra India Shimmering Bronzing Powder  ($55)
Météorites Perles De Légende ($65) Light-Revealing Pearls Of Powder, 3 shades inspired by Indian pigments: pink to refresh, gold to illuminate, and a touch of blue to softly correct the complexion. A blue and gold design reflecting the colours of Indian jewel cases.
L'Or Felt Eyeliner, Sparkling Gold ($34),  gold eyeliner for Holiday.
This ultra-precise eyeliner combines a silky formula, saturated with pigments and gold shimmer with a thin bristle brush for a perfect shimmery look.
Shalimar Duo Eyeshadow ($46)  Gold And Sapphire. Inspired by gold and sapphire Indian jewels.
  Precious Light Pink Pearly Illuminator ($52) Pink Pearly "your anti-dullness weapon, the best tool for perfect strobing". Infused with subtle rosy micro-pearls, reflects light and instantly illuminates the complexion.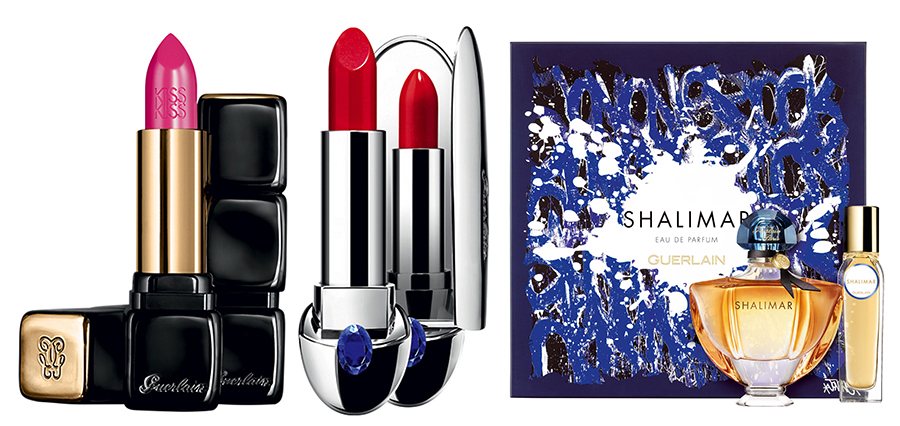 KissKiss Creamy Shaping Lip Colour ($37)  Rose Indien, an intense and warm fuchsia pink with a satin finish, inspired by Indian pigments.
 Rouge G de Guerlain Exceptional Complete Lip Colour ($56) Rouge Sapphire, an intense ruby red shade, with a deep and satin finish.  Rouge G is reminiscent of the "Bindi", a red dot applied by Indian women between the eyes.
Shalimar Eau de Parfum Holiday Set ($136 Value), $112.00 50 mL Eau de Parfum and a 15 mL Eau de Parfum purse spray. Style created by Jonone, a famous artist from New York.
Guerlain is available from Harrods, Saks,  Neiman Marcus, Bergdorf Goodman, Selfridges,  House Of Fraser and  Nordstrom.