I already wrote some reviews about Inglot eye shadows  but never wrote about their palettes. So what about them? The coolest thing is that you can choose how many shadows do you want and you can pick the shape, too! They have round and square shadows  and you can get them in the set of 3, 5 and 10. You can also get lipsticks and blushes in different sets. Anyway, you can get everything you need at Inglot from false eyelashes to holographic lip glosses. But back to the shadows. I have different shadows from the brand but today I want to show you my set with 5 bright round shadows.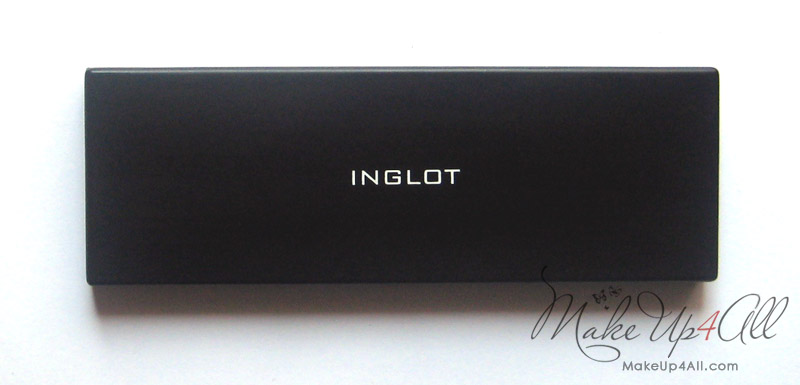 I've picked all the colours myself and I really love all of them. They don't have names but do have numbers. So here are the numbers if you would like to get the same
yellow 60
green d.s 477
orange 51
purple d.s 494
turquoise shine 33
If you don't want to get the whole case you can get mono colours like this or Interga  shadows like this.
And now my thoughts and swatches
I am very happy with these shadows! Really, if you want to get bright and pigmented shades and don't want to pspend a fortune you should really check out Inglot. All shades except turquoise are matte but with some tiny silver glitter which you can see in the pan but you can't see it on the eyes and it doesn't fell all over the face.
On the photo you can see how the shadows look without the base but it's 2-3 layers so you can see the colour. I don't have any problems with these shadows, they are great in my opinion: easy to use and blend, they stay on for a long time and look nice even at the end of the day. But please mind that I don't have oily eye lids and don't usually have any problems with eye shadows.
Also, as I already said the price is amazing. I got these shadows for 13 Euros which is very cheap. You can get them  for  £15 in the UK and I also know that you can get them in New York but I am not sure about the price there.
I got a lot of questions about Inglot products so I will be sure to make more posts about this brand and because I know that a lot of you want to try it I will have a giveaway so stay tuned. I also came up with 2 looks with this palette so I will make a post next week.
If you have any questions about the shadows or Inglot feel free to ask.