It feels like I am starting every monthly favourites with this. But how is it August already, the 8th month of the year? Where did 2017 go?
All that aside, here is a list of the things I have been loving in July, and please keep in mind that I am still loving/using all the products from the previous months, but I just want to mention the ones I haven't mentioned before.
Makeup
theBalm  Balm Desert  (buy from  ASOS, Feel Unique and Sephora.).
I have only discovered this product in July but I think this will be a new long-time favourite. There is no need to say that the formula is amazing, it always is when it comes to this brand. But what is so special about it then? It is the  shade which is perfect. Bronzer/Blush is a great description, as it is not your typical bronzer, it has a reddish undertone to it. When I first saw Balm Desert, it made me think of Dallas by Benefit but they are not the same at all.  Anyway, this products is great for adding colour to your face, and for gently sculpting it, too.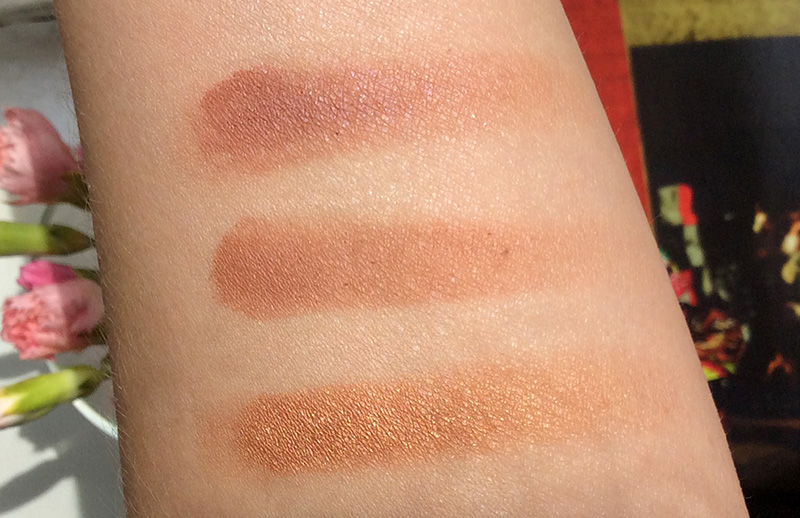 From top to bottom: Dallas by Benefit, theBalm Balm Desert , theBalm Betty-Lou Manizer.
Daniel Sandler Watercolour in Moonglow (review and swatches)
This is a beautiful highlighter that looks natural on the skin, it does not look like makeup, you just get that healthy glow. You can get a very subtle effect but can also build it up thanks to the fluid formula.
Chanel Illusion D'Ombre Long Wear Luminous Eye Shadows (buy them from Nordstrom and Addwigs)
Chanel recently launched the Ombre Premiere line, and here I am still talking about Illusion D'Ombre. But what can I say? I have re-discovered my love for these. I was searching for the 857 Rouge Noir  shade everywhere as it was sold out at some point, and I am so happy that I was able to find it. 83 Illusoire was given to me by a friend who was downsizing her collection, and I really love it, too. My favourite thing about these are the high-shimmer and that cushion-like formula which can be applied as a sheer layer or as a more opaque colour (depends on the shade). For some reason they did not last on me that well but now they do. I have no idea what I am doing differently but I am loving it.
Skincare
Clarins Detox Booster (review)
Out of all the three boosters by Clarins Detox is the one I wasn't really interested in. I was using the other two but  this one? Not so much. But the other day, after I got home too late after a party (TMI), I've decide to give it a go. And, wow, it looks like this is my favourite one.
Detox booster is supposed to:
Restores radiance of a dull complexion
Detoxifies and plumps the skin
And I can say that it really works. July was a month when I went out a lot and my skin did not show it! (Or at least I want to think so 🙂 ),  I may be very tired but my skin still looks fresh and radiant.  I may even spy that "healthy glow".  By the way, Clarins just launched three face masks, see more here.
Kenzo Amazing Exfoliating Water (buy it from Net a Porter)
I have never read any reviews of Kenzo skincare but always wanted to try it, so I have decided to start with the exfoliating water, as I needed a new one.
This one contains Lactic and  Salicylic Acids, and there is actually a lot of information about different types of acids and what they do for your skin these days on-line, so you can read it all.
I use it 2-3 times per week, and am happy with the results, it is just as good as mos acid products I have used. However, please note that alcohol comes second in the ingredients list.  On a plus sides – I like the scent.
Talking about scents – I also have to mention Jo Malone Lime Basil & Mandarin Cologne.  (from Nordstrom, Saks and Selfridges )"Peppery basil and aromatic white thyme bring an unexpected twist to the scent of limes on a Caribbean breeze".  It is absolutely incredible, such a nice scent for summer, and I have also got a lot of compliments.