Regular readers will know how much I love Watercolour blushers from Daniel Sandler. In fact, I have written a very detailed review of them with tips from Daniel himself. 
So this feature will be mostly about the new shades, and  not an in-depth review.  And there is a kit of four colours! It retails for £49.50 while a single shade is £16.50 which makes each shade from the kit retail for £12.3!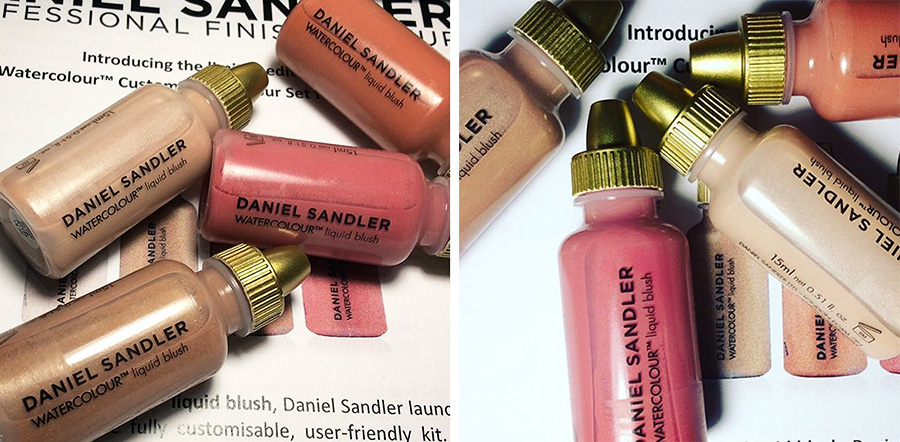 So what are you getting?
 Moonglow, sheer, pearlescent white highlighter
 Sun Glow, a warm, golden bronze illuminator
 Luxe, a delicate, matte peach
 Pop, a medium toned, matte pink
Each bottle is 15ml.
My personal favourite shade is
Moonglow, it is such a beautiful highlighter, and I like the fact that you can make it look subtle or build up the glow. Sun Glow is also a nice way to add that radiance to your face.  Please note that it is not a bronzer, it just adds some warmth to your complexion. But if you want a liquid bronzer from Daniel – these are incredible, still my favourite shades he released. There are also two blushers, pink and peach which,  which are universally flattering.
The benefit of the kit is not only a cheaper price but also the fact that you can customize your shade but mixing different ones together.
And, don't forget that you can wear Watercolours not only on the cheeks, but also on the eye lids on on the lips (on top of a lib balm). They give that beautiful and natural effect, it does not look like makeup, you just get a beautiful glow/blush effect.
And here is a video of Mr. Sandler demonstrating all the shades on the model.
You can get the set from Daniel's website or  from Feel Unique and Amazon.