I have a slight obsession with cool-toned shimmering lip glosses, the sadly discontinued Guerlain's KissKiss Gloss in 800 Crystal Pearl has to be my favourite gloss in the World.  I am actually always on a hunt for a good dupe. Plus, despite having tonnes of lip products, this is the kind of lip glosses that I manage to use up.
This is why I had to pick up new L'Oreal Glam Shine in Dazzle 201 Sparkle Shower. By the way, there are tonnes of gorgeous shades and several finishes in the line, so they are definitely worth checking out.
And this gloss is really nice, it feels great on the lips, moisturizing, non-sticky or gloopy at all. I also like the applicator (similar to YSL) which "hugs" the lips and helps with the application. While this shade is quite forgiving that may be something useful with darker and brighter colours.
I also have to mention a peachy scent, which I personally like but some of you may not.
A for how it is compared to Guerlain colour-wise, it is similar but definitely not a dupe. Although I adore the gorgeous sparkles, especially in the sun light, they are not as delicate and not as cool toned.  I have also included Bobbi Brown's  High Shimmer Lip Gloss in Oyster for the comparison purposes.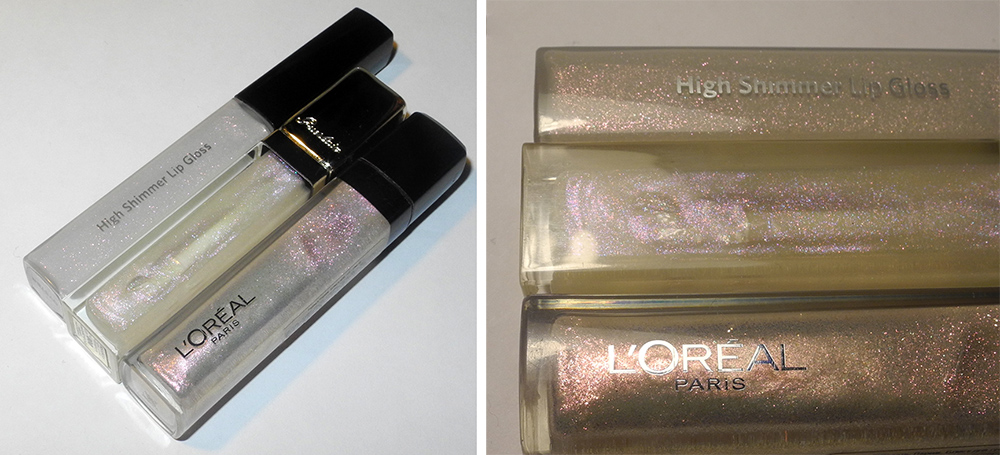 Here are the swatches on the skin on L'Oreal on the lips. I've tried to capture the awesomeness of these glosses but I am not sure if it worked, they are definitely more beautiful, multi-dimensional and complex in real life.
I would say that if you want a nice new lip gloss with an affordable price tag – L'Oreal Glam Shine is a great one to consider (it lives in my handbag now). I would get more shades if I did not have an inexcusable amount of lip products already.
You can get if from Amazon