I just like Aaron de Mey, I really do. I like his style and his long hair(!) and his quite rebellious collections for Lancome. Glossy black eyes, deep blue eye shadows, the vampy shades for Fall, his collaboration with L'Wren Scott and  the Spring collection.
I also like Daria Werbowy. By the way, have you seen the French Vogue's calender with her? Did you like it?
But today I want to show you the photos of Daria from Marie Claire US December 2010, makeup is by Aaron. There are 5 looks but I've chosen 3. I like that all the looks are quite simple yet elegant and beautiful.
I absolutely love the glowy skin, bronzy eyes and this bright lipstick, amazing combination!
Products that are used: Matte Color Design Matte Lipcolor in Posh Pink, Blush Subtil inShimmer Mandarin Sky, Essie nail polish in Secret Affair.
The second look is pretty much neutral. Some pale gold eye shadows and neutral lips, looks fab for a hot summer day.
The third look is about subtle grey smoky eyes with some silver in the corner of the eyes and pale pink lips.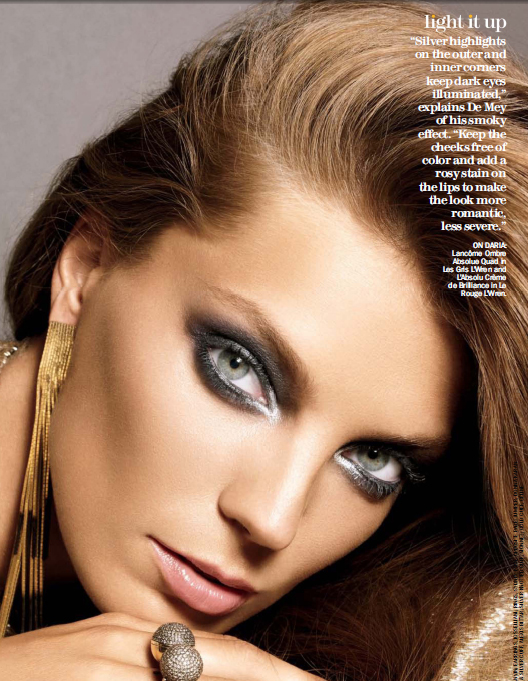 There is also a look with green eye shadows and the other one is pastel lilac. You can see on the photos what products were used to create these looks. I like them all but I love the 1st one the best.
I'd really love to meet Aaron de Mey one day (can't believe that I could  but that's the other story) to chat about makeup… and probably music.
Hope you like these looks, too.  I've just realized that I already published one look of Daria created by Aaron. See, I told you, I like him!