I really love zesty citrus body products, bath and shower gels, body creams etc.
This is why I had to get Happy Hippy Shower Gel by Lush. They describe it as a  "fresh grapefruit breakfast in a bottle."
I actually like Lush shower gels, here is my review about Glogg, and this one is not an exception.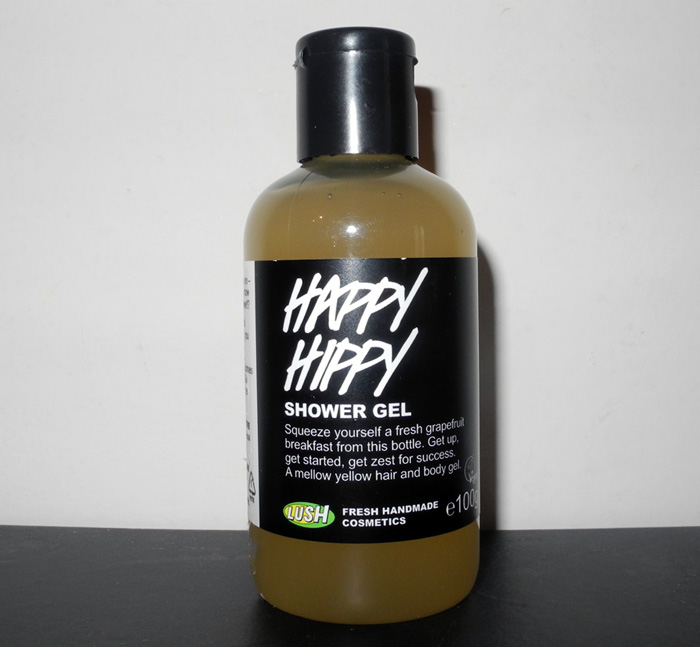 First of all I love the yellow colour of this gel, it makes me think of sunshine  and lemons! Although, it is not actually lemons (in it), it's grapefruits. And to be more precise  pink grapefruit juice, grapefruit water  and grapefruit essential oil. Sounds cool, right?
And it actually is a great pair for my Body Shop Grapefruit body butter. Not to mention that I love grapefruit juice for breakfast!
It is said that you can use it both on hair and body but I have never tried it on my hair, and probably won't, as I pick my shampoos very carefully. But I love it as a shower gel a lot. It is uplifting but not overpowering, the scent is not as strong, as it can be with "reviving" bath products.
So if you want a citrus body gel but don't want it too be very strong – you may like this one.
It's a nice addition to my collection of shower gels, as I love to rotate them.
The price for 100 ml is £3.25, you can also get a 250ml and 500ml bottles.