Craft Paper Couture – an inspired idea cut like a pattern and whipped up into a frisky little "funny face" frock. Then, strip it back to its essence for Summer 2010 for a Pret-a-Papier colour collection. It was a Project Runway challenge of sorts, with paper as the source, the instigator of ideas, the beginning of something simply, basically beautiful. Lipstick, LipGlass, Eye Shadow, Paint Pot, Chromografic Pencil, Studio Fix Lash, Impeccable Brow Pencil, Sheertone and Mineralize Blushes, and Nail Lacquer in a seamless spectrum of parchment-to-vellum beiges, with an occasional, clever colour spill, coral among the most au courant.
Here is how the colours from the collection look like
The thing that I personally would like to get is
Paint Pot in Coral Crepe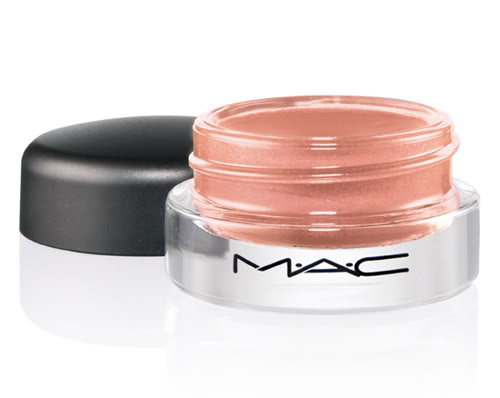 If you want to know the details about this collection and SHOP online go to Bloomingdales. Anything you would like to get?
Speaking of MAC, I just got some stuff from Give Me Liberty of London collection and regular collection. I need some brushes but can't get them right now. They will have to wait.