While the fall 2010 collection by MUFE was all about the glamour, red and black and the holiday collection was all about the ROCK this collection is for the girly girls who love everything cute and pink.
The collection was inspired by  Brigitte Bardot and is called Tres Vichy.
Seems like "Bardot style" will be a hot trend for this Spring but it seems that people are never tired of seeing more of her!
So the collection includes:
Star Powder Diamond
Crystal White
Sweet Pink
Peach Pink
Pale Green
Très Vichy Palette
Crystal Diamond # 301 and Cheek Color # 303. I believe this is a highlighter/ blush or two eye shadows.
Très Vichy Faux-Lash
A pair of lashes with the bows. I really wonder how those feel like on the lashes. But I guess I will never find out, such style is definitely not for me.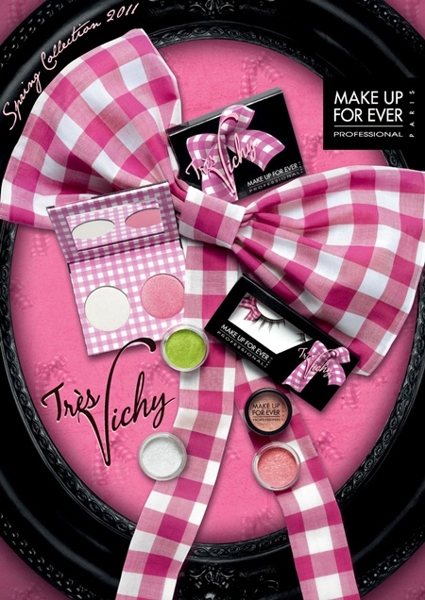 So which Make Up For Ever collection do you like the best? This one is really cute but I probably won't wear anything like this while the fall and holiday collections were just perfect for my taste!
photo credit: iswii. net