When I was in the market for new Vitamin C product, OSKIA just came out with their Super-C Smart Nutrient Beauty Capsules, and I had to try them straight away, as they sounded too wonderful not to.
You get 60 individual biodegradable, travel-friendly, capsules which come in a cute heart-shape.
I also love the orange colour of the capsules and the outer packaging, that's a great touch.
There are 60 capsules, and the price is £62, so if you use them every day for two months,  that would make it about £1 per day. Which, I suppose, is not  too expensive  for the results. I have used up 35 capsules, as I am writing this review.
And I, honestly, can see them, the results, that is. The skin does look more radiant and glowy, not to mention that it is hydrated and moisturised. I like the list of the ingredients, especially  Tomato extract, Vitamin E and Squalane which I know my skin loves.
I think it is worth mentioning that my husband also commented on these capsules and my skin. He would not stop with his "bouncy skin" comments. So there you go.
I truly enjoy the ritual of using these daily, it is now a part of my morning routine (but you can also use them in the evening), the subtle smell of oranges, and the orange colour of the capsules make the grey English morning better.
OSKIA say that the capsules contain 2% Vit C which probably won't be enough if you want to deal with serious pigmentation.  But  since I do not suffer from it, this formula works just fine for me. I also really appreciate the individual packaging, as in the past my Vitamin C serums would turn brown before I had a chance to use them up. I would definitely re-purchase at some point.
Here is the list of the ingredients: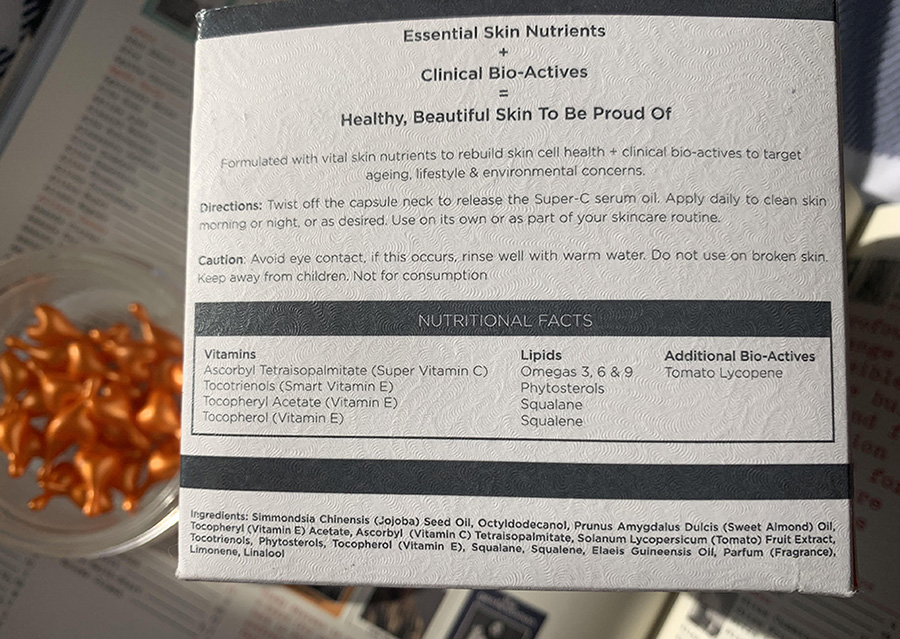 You can buy OSKIA from Cult Beauty and Space NK.