Here are the most interesting lip launchers, in my opinion. All three are unique, and truly stand out. With a new beauty launch every day, it's hard to bring out something amazing, but these lip releases are anything but boring. No wonder, two incredibly talented make-up artists Gucci Westman and Lisa Eldridge, and Victoria Beckham could not get it wrong.
Westman Atelier Lip Suede, $95. Out in December.
I really love the look of Gucci Westman's makeup line. In fact, she is one of my  favourite make-up artists to follow on social media.  Her new release which she shared about this week on her Insta is just so chic and gorgeous. How can you possibly not want that beautiful red compact with four shades of lipstick? This is exactly what we love luxury beauty for.
Lisa Eldridge True Velvet Lipsticks, £26 each; £75 a trio with a pouch.
Lisa broke the Internet again with the launch of the new shades of her   Velvet Lipsticks.
There are six new shades: Velvet Fawn, Velvet Muse, Velvet Decade, Velvet Beauty, Velvet  Myth (shown) Velvet  Midnight (shown)  and  also several trio options with the pouch (shown is  True Velvet Collection) which are £75. You can also get the pouch separately, which in my opinion, is the most beautiful one so far, for £18.
As always, Lisa released a video where you can see all the details about each shades. Just hurry up, because a few colours are already sold up.
Victoria Beckham Beauty Lip Products from Cult Beauty
While I've bought the eye products from VB the day they launched, I didn't get anything from the lip line just because it is not my style. I personally don't really wear nude lip, and did not really need a new lip liner or a stain for AW season.
However, if you are into that sort of look – definitely give VB beauty a go, her products are great quality, look chic and are more affordable than similar high-end lines.
Bitten Lip Tint is £30 and Lip Definer, £18 which is available in 6 shades.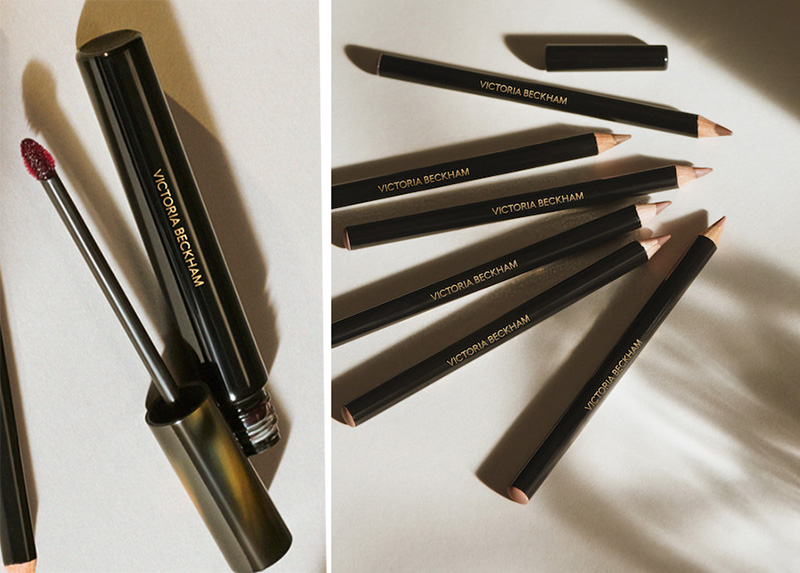 I can't wait for her beauty line for the face!
By the way, if you want to stay more up to date when it comes to new collections, I suggest you follow my Faceboom page, as I do post the products which catch my attention there.