It's been a while since I did a post about brushes…  So, I think, it's time a for a little update. I've decided to show you my most used face brushes whether it's on myself or when I am doing someone's makeup.
There are 6 that I absolutely have to have.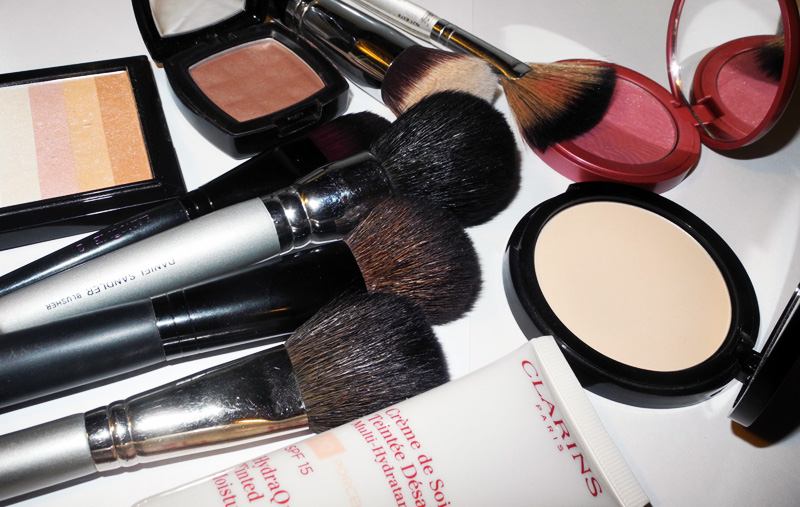 Let's take a look:
Rouge Bunny Rouge Face Contour Brush 012 (Review)
This is my newest brush, and  my favourite for contouring. I have quite a few which I've collected over the years but they all are forgotten now, since I have this one. It has a perfect shape that goes right under the cheekbones. The bristles are firm but soft, which makes it a perfect contouring brush.
Can be purchased from Beauty Bay and Beauty Habit.
Japonesque 924 Travel Blush Brush (review)
Japonesque  rule the brush world, they are among the best. And their 924 Blush Brush is my favourite face brush that I own from them. It feels incredibly nice and soft on the skin and blends the product nicely. This is my blush brush of choice but I often use it for powder, too, as I am not a big fan of big powder brushes.
Daniel Sandler Blusher Brush (mentioned here)
Although this is a blush blrush, I adore using it for bronzer, it has a perfect shape, not too big, or small, it gives a beautiful "natural" looking application. Since I personally use bronzing products to warm up the face, I don't like them to be applied very precisely, and this brush works amazing for that. Did I mention that it  is also more affordable than most  high end brushes?
Lancome Foudation Brush #2  (review)
I have  a lot of different "classic" flat synthetic foundation brushes, and all that I have are pretty similar. But  I just love my Lancome one because of the gorgeous limited edition purple/ black design. Unfortunately it is no longer available, but you can get the same brush with a regular colour of bristles.  As for the brush itself, I like how it distributes the product, it doesn't leave streaky marks and is precise enough, so can be used around the nose and under the eyes without any problems. I also love using it for liquid highlighter.
Buy it from Selfridges or Nordstrom 
 Sigma F88 Flat Angled Kabuki  (review) (and other kabuki brushes from the range)
I am a  big fan of all the Sigma kabuki brushes, they are affordable but preform just as well, as expensive alternatives. I've had mine for a long time already, and would definitely recommend. I love how these buff in the foundation, or any other cream product, and give you this polished glowing look.
You can buy the brushes from Sigma's website.
Trish McEvoy 62 Fan Brush (review)
When I need a very light application – fan brush is a great tool! Trish's fan brush  is a great option for a touch of highlighter or a "barely-there" blush application. I read that some people love fan brushes for foundation but I haven't figured out the benefit of it (yet?) myself.
You can buy Trish products from Selfridges, Nordstrom and Neiman Marcus.
Although I do have more brushes than I will ever need (I never really work on a lot of models at a time), there are still some that are on my wish list. Think NARS, Hakuhodo and Charlotte Tilbury. Anything you'd recommend?