I am the biggest red manicure fan ever, and quite frankly red nail polish is one of my favourite makeup product, it feels very me. And while I have been a huge fan of Max Factor Cerise, and used up 3 bottles  of it, I've decided to treat myself to some  high end red nail polishes.
So please meet these beauties: YSL  6 Red Dada and 754 Dior Pandore.
I would say that Dior nail polishes are probably my favourite high end ones, I love the wide and thin brush, the formula and the application. Below I am wearing 2 coats, and it applies like a dream and stays on for a few days.
I have been going for gel manicures for months but decided to give my nails a break since Spring, and I am loving it.  Getting your nails done yourself is quite therapeutic actually.
And Pandore makeup me very happy, it is an instant pick me up kind of shade, vibrant fiery red, it is perfect for summer.
Being on a gel manicure break, I have  discovered some really cool products like OPI Nail Envy, Mavala nail varnish remover and others. Will definitely share in the future.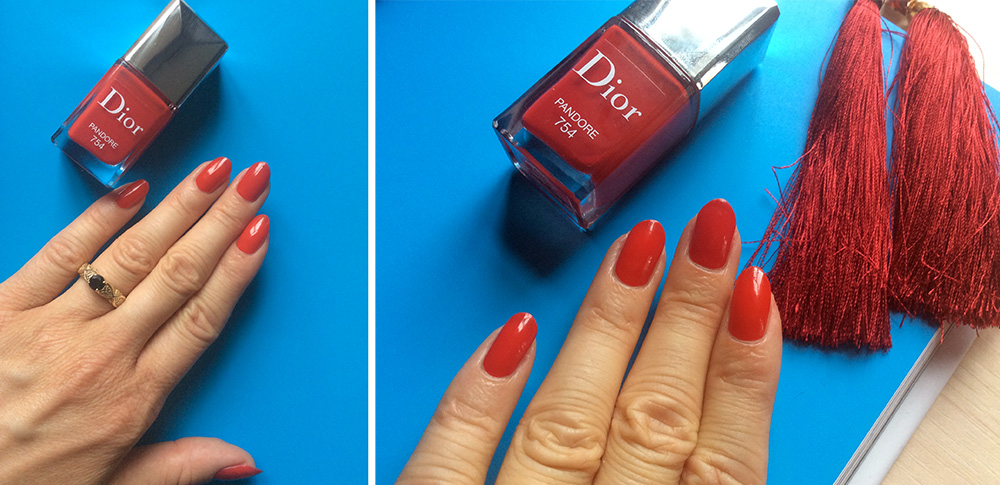 You can buy Dior's nail polishes  from Nordstrom, Selfridges, from Saks, Escentual etc.
Speaking of Dior, their backstage line which was used on Megan Markle's for the Royal Wedding is already available.