San Francisco is one of the most amazing cities in the World, so I am personally really excited to see the whole collection dedicated to it. And it's the OPI's Fall 2013 nail polish collection.
Also how beautiful are the promo images?
The shades are:
A-Piers to Be Tan, I shore do like this chocolaty tan.
Dining al Frisco, Just feast your eyes on this fresh-air blue!
Haven't the Foggiest, Can't tell you why I love this misty gray…I just do!
Peace & Love & OPI, This holographic sage and eggplant is far out!
Keeping Suzi at Bay, There's no holding back this assertive navy blue.
Incognito in Sausalito, You better keep this almost-black blue under wraps.
Lost on Lombard, Oh garn-et! I'm all turned around!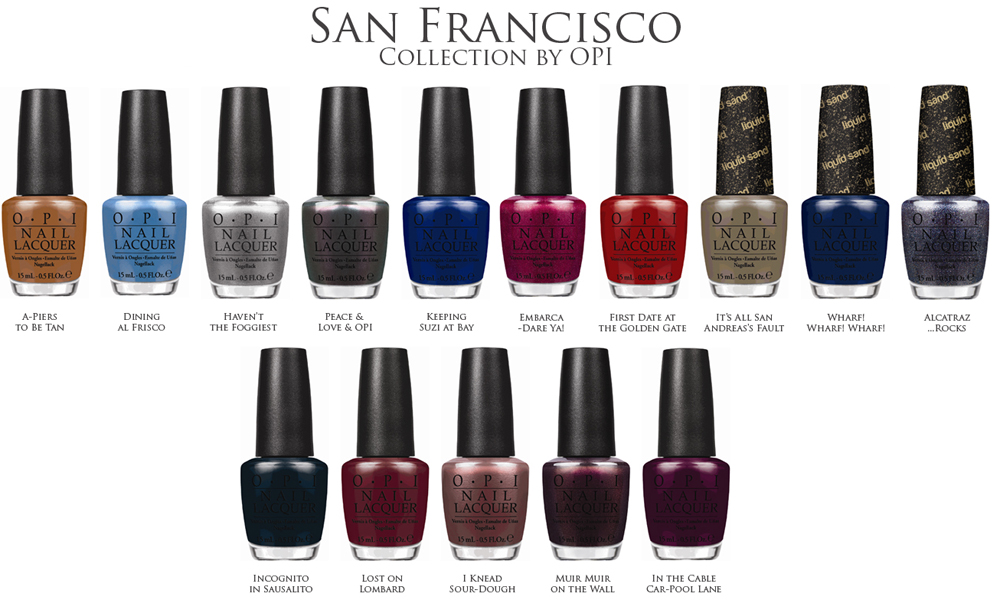 I Knead Sour-Dough, Are you bready to wear this toasty warm brown?
Muir Muir on the Wall, This trailblazing plum is the fairest of all.
In the Cable Car-Pool Lane, Good golly, Miss Trolley, this rich burgundy takes me away!
Embarca-Dare Ya!, Betcha can't pass up this marvelous magenta.
First Date at the Golden Gate, You and me and this shimmery ruby make three.
It's All San Andreas's Fault, I'd move mountains to get this textured earthy taupe!
Wharf! Wharf! Wharf!, Dog-gone it…fetch me that textured matte blue!
Alcatraz…Rocks, There's no escaping this arresting textured gray.