OPI are killing it with their two latest releases. First of all there is this fantastic collection inspired by New Orleans, and the promo video is incredibly beautiful. Now I want to visit even more… One day.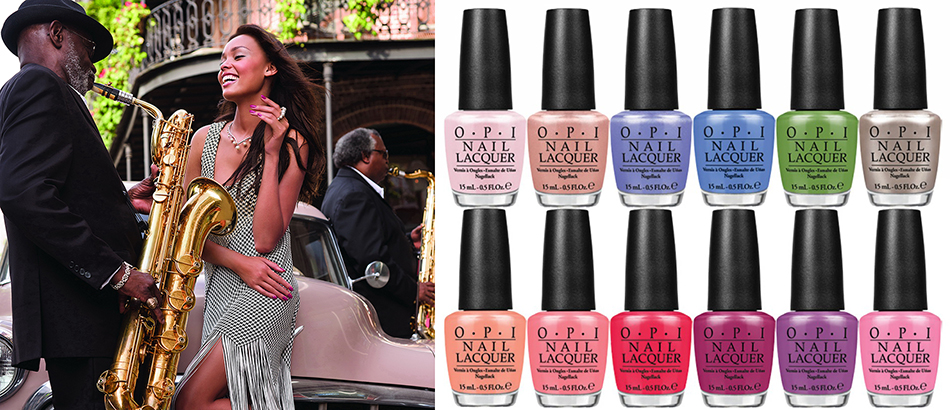 I highly recommend, feel the vibe of that city, and check out the model's outfits, and her red shoes!
The shades are:
Let Me Bayou a Drink, This refreshing blush pink is my treat.
Humidi-Tea, Beat the heat in this nude shimmer.
Suzi Nails New Orleans, This light, bright pink hits the spot for chic.
I Manicure for Beads, Throw me nothing but this luscious purple crème!
Spare Me a French Quarter? Say oui-oui to this mellowed raspberry crème.
She's a Bad Muffuletta! Don't mess with this hot red crème!
Got Myself into a Jam-balaya. A yummy mélange of spice and creamy peach.
Crawfishin' for a Compliment. This light, creamy orange is perfect on me, isn't it?
Take a Right on Bourbon. An intoxicatingly, warm metallic pewter.
I'm Sooo Swamped! This verdant, creamy green is drenched in style.
Rich Girls & Po-Boys .Make a date with this china blue crème.
Show Us Your Tips! Let's see how this periwinkle shimmer looks on you.
As for the Alice Through The Looking Glass collection, there are eight shades:
I'm Gown for Anything! Have a ball in this adventurous, creamy lilac.
Fearlessly Alice, A bold cerulean blue with intrepid style
A Mirror Escape,Break free from ordinary in this glittering gold.
Having a Big Head Day, Get ahead of the pack in this commanding, hot red.
Mad for Madness Sake, This fuchsia pink is crazy-hot on you.
The I's Have It, All eyes on ME…and this light powder blue.
Oh My Majesty! A supremely beautiful pearly alabaster.
What's the Hatter with You? I'm going mad for this crazy-rich burgundy crème.
There is also a makeup collection dedicated to Alice, eye shadows and lipsticks from Urban Decay.
You can buy OPI from Harvey Nichols for £12.50, also from Feel Unique and Look Fantastic.