Who does love lasagna? I am still yet to  meet that person… This is why I thought I'd share on of my favourite recipes of this dish that I've got from a friend;  and she is my personal cooking inspiration.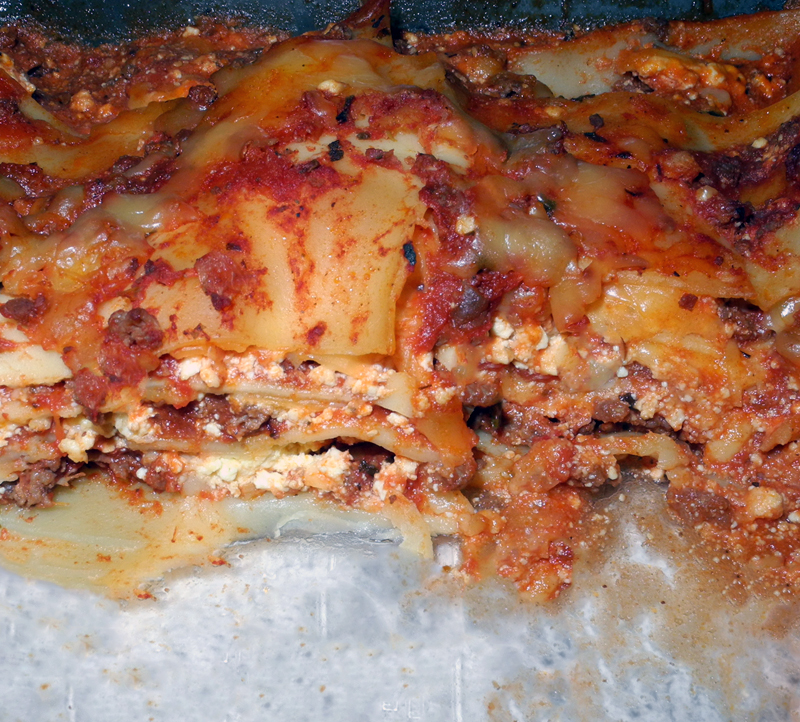 I am sorry for that this photo is definitely not appetizing but it's the only one I have.
Ingredients:
340 grams ground beef
1 medium onion, chopped
2 cloves garlic, chopped small or pressed
400 grams canned, chopped tomatoes
150 grams tomato paste
125-250 ml water
2 teaspoons dried basil
1 teaspoon dried oregano
1/2 teaspoon salt
1/2 teaspoon pepper
Lasagna noodles
1 egg, beaten
400 grams cottage cheese
2 tablespoons sour cream
1 tablespoon dried parsley
Hard cheese, grated
Parmesan cheese, grated (optional)
How to cook:
In a large pot, cook meat, onion, and garlic till meat is brown and onion is tender. Drain fat. Stir in canned tomatoes, tomato paste, water (start small, don't let the sauce get too thin), basil, oregano, salt, and pepper. Bring to boil; reduce heat. Cover and simmer for 15 minutes, stirring occasionally.
Meanwhile, cook enough lasagna noodles to make 2 layers in your baking pan, according to package directions. Drain. In a bowl, combine egg, cottage cheese, sour cream, dried parsley, and some Parmesan, if you want.
Layer half of the lasagna noodles in baking pan. Spread with half of the home cheese mixture. Top with half of the meat sauce. Cover with grated cheese. Repeat layers. Can also put Parmesan cheese on top.
Bake in 190 degree oven for 30-35 minutes or until heated through. Let stand for 10 minutes.
It is really good. Enjoy!