If you follow me on Instagram, you could already see a preview of some Rouge Bunny Rouge products that I was sent for  a review, so here is a long time promised feature about their Glassy Gloss Sweet Excess  gorgeous glosses.
There are six shades in the range, and I actually have five of them. The missing shades is CHERRY CLAFOUTIS which is described as a "gloss version of the 'Scrumptiously Devious' lipstick, sheer blue based cool pink with a warm golden opalescence". And I actually have a review of the lipstick here.
The shades I have are (descriptions from Rouge Bunny Rouge):
FLEUR PARFAIT, Cushiony-soft semi-opaque mauve pink, with subtle silver highlights
MOUSSE FANDANGO, Dark tone of milky pink with barest whispers of grayish mauve and touch of silver micro pearls
RAHAT LOKUM, Pale milky pink with medium-heavy mother of pearl effect micro-shimmer
RASPBERRY MERINGUE, Pale pink with very soft mother of pearl micro-shimmer – this shade doesn't yield a strong colour, but it makes lips naturally pretty
RHUBARB CUSTARD, Semi sheet coverage milky nude rosewood – irreplaceable my-lips-but-better colour
My personal favourite is  Raspberry Meringue which is actually always in my handbag. It is a gorgeous cool-toned pink with micro-shimmer. Love me some sparkles!
The other shade that I use a lot is  Rahat Lokum which is heavier on the shimmer and warmer in tone. I am actually wearing it as I type.
Rhubarb Custard is a great option for those who like "nude" lip glosses. It is a creamy and balmy every day kind of shade. No shimmer.
As for Mousse Fandango – RBR have a really accurate description of this shade.It is truly complex and dimensional.
Finally, Fleur Parfait is a mauvy pink with a cream cushiony formula. It is the darkest and the most opaque shade, the micro shimmer in this one is barely detectable but it is present, and makes this colour even more interesting.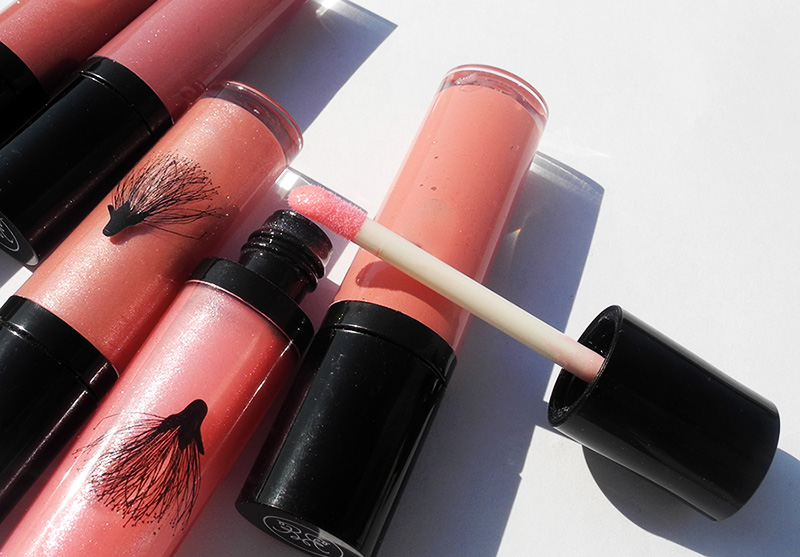 As usual, the packaging and the design are dreamy, so is the quality. Unlike other RBR glosses which come with a brush, these come with a sponge.
Sweet Excess  glosses are incredible, some of the best ones I've tried (along with Clarins), they feel like a balm which is exactly what your lips need for the AW season, rich and protective formulas.
Although the consistency slightly varies, depending on the shade, all of them are moisturising and soothing. Glassy Gloss don't feel sticky or gloopy in any way,  you just want to wear them all the time, and never take them off.
I also have to mention the sweet fruity scent, which I personally really love. In fact, I made some of my male friends smell it (yes, really) and non of them disliked it. Which is important, if you know what I mean 😉
If you are looking for a high-end lip gloss, I highly recommend Rouge Bunny Rouge Glassy Gloss Sweet Excess .
Here are the swatches: Rhubarb Custard, Mousse Fandango, Fleur Parfait, Rahat Lokum and Raspberry Meringue.
The price is €28 for 10 ml from Rouge Bunny Rouge website. But you can use RBR-MAKEUP4ALL20 for a 20% off* and get it here.
*RBR kindly offered my readers a 20% discount until December on all their products!