Holidays period is the perfect time to treat yourself to something luxurious and chic. So, here is a preview of two high-end beauty releases which look gorgeous and cost accordingly. And we are talking Tom Ford and Cle de Peau here.
Tom Ford's Noir Color is all about the dark and smoky shades for eyes & nails and nude lips. Oh, and there are  lash tip mascaras. Fun!
Cream and Powder Color ($66) in Night Sky,  Nail Lacuer ($35) in Black Out and Lip Color ($55) in First Time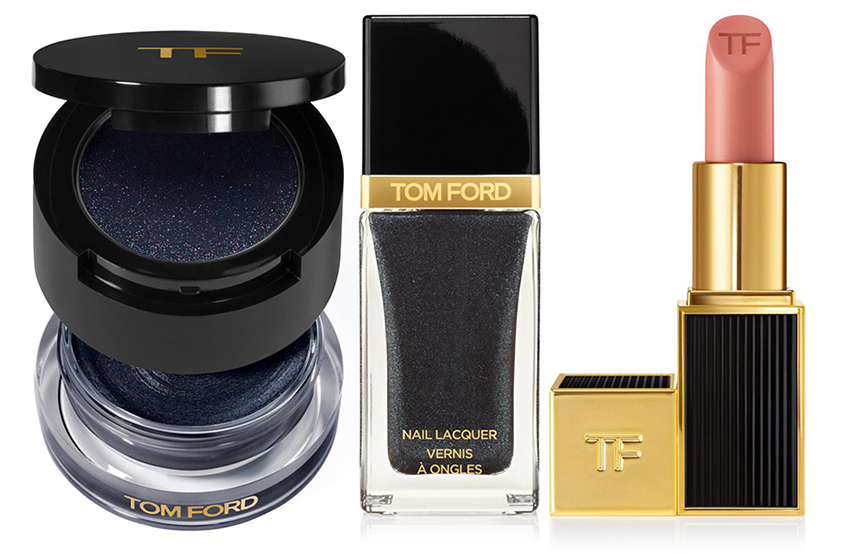 Eye Defining Pencil ($40) in Navy Blue, Waterproof Extreme Mascara ($48) in Noir, Lash Tip Mascara, ($44) in Pure Cobalt and Burnished Gold.
You can see how it all looks together on this promo image with Daphne Groeneveld.
Tom Ford beauty is available from  Bergdorf Goodman, Bloomingdales, Neiman Marcus, Nordstrom, Harrods andSelfridges.
And here is a preview of  Cle de peau's Bal Masqué collection.
Collection Bal Masqué makeup coffret,  $210 includes lip 4g, eye color 5g, mascara 4.4mL: "eye color quad palette of luxurious metallic shades, perfect lash mascara in a deep, glossy Bordeaux, and extra rich lipstick in an intense crimson."
Collection Bal Masqué nail lacquer trio, $75.00 / 8ml net wt. 0.27 oz. ×3 Dark Red, Black Gold, and Silver Metallic.
Collection Bal Masqué body powder,  $120.00 / 10g net wt. 0.35oz "soft rose colors with a captivating, delicate fragrance that envelops skin in floral scented sparkling radiance."
Enriched lip luminizer refill, $35.00 / 2 g / 0.07 oz 235 "A superbly soft and silky formula that melts onto lips. Achieves pure, elegant, sheer color. "
Collection Bal Masqué le sérum, $325
Cle de Peau is available from: Nordstrom, Neiman Marcus, Bergdorf Goodman, Saks