(this is a promo photo of the new perfume by Dolce and Gabanna – Rose the One)
I am sure that you all know that Scarlett Johansson  is a spokeswoman for Dolce and Gabanna. Have you seen their Fall 2009 and Holiday 2009 Collections by the way? And did you know that this September their new perfume Rose the One will be available ! It's all about roses but also blackcurrant, ambrette seed, lily of the valley, pink grapefruit, mandarin, Madonna lily, litchy, peony, sandalwood, musk, vanilla. It will be available in 30, 50 and 75ml
Platinum, brunette, or strawberry blond? The red carpet chameleon always keeps Hollywood guessing
Scarlett Johansson
Over the course of their careers, most actresses will log more hours in the makeup chair than in front of the camera. But inquire about their personal beauty habits, and nine out of 10 will cop to little more than a wimpy slick of ChapStick and that old chestnut, "Lots and lots of water." Scarlett Johansson, on the other hand, swaps makeup tips with a junkie's enthusiasm (and lingo): eye shadow compacts are "quads"; a favorite lipstick is "creamy, not too slippery, but really opaque"; premieres and awards shows—where most actors play it safe—are the perfect excuse to "switch things up and try something new." Who better to play a modern Marilyn in ads for Dolce & Gabbana The Make Up? The predictably luxe, high-wattage new collection fairly screams, "ChapStick? Puh-lease."
First things first: that skin.
I'm 24, so I have the same breakouts as everybody else. I never go to bed with makeup on, even if I come home at 4 a.m. My skin's sensitive, so I have to use things without fragrance, like Cetaphil. And I clean my makeup brushes once a week. People don't realize how dirty their sponges and stuff are! Bacteria—that's what makes you break out. And I never really use moisturizer.
Excuse me?
Yeah. Someone once told me that it's better to not use creams every day and just let your skin do its thing. I do use masks, though. I alternate between Jurlique's Purifying Mask, which feels kind of leafy and organic but is really good, and a hydrating one like the Clarins HydraQuench Cream-Mask.
What if one of these alleged skin problems strikes?
Ugh, gosh. It's always such a disaster. If it's a swollen blemish or my eyes are puffy, I use whatever's in my freezer. It's not uncommon to see me before a premiere with a bottle of Ketel One stuck to my eyelid!
Does the recent brunette make you feel more serious?
With the hair color, I got a college degree! It comes in the bottle! [Laughs] No, it doesn't make me feel any different. But when you add color as opposed to removing it, you can fill in the cuticle and make your hair shinier and healthier-looking. Plus, all of a sudden, your makeup changes and your wardrobe changes, and you get a whole new color palette. I'm a winter! Now, in dark colors, I look much more Gothic.
How do you approach red-carpet dressing?
I try to be playful. Everybody sees actresses in character, but this is a forum to display our personal style. I definitely use references; I love Old Hollywood, and I always go back to Lauren Bacall's strong face and chic, signature look. And Rita Hayworth, certainly, for the hair. But I'm also inspired by the runway. Fashion is whimsical, ideally, and sparks your imagination—you have to translate that look to real life. Hair and makeup people will be like, "Remember what we did at Calvin?" Or, "Remember Dolce?" I like to be their guinea pig.
Any must-have products?
I always like a good, rich mascara—Benefit BadGal is really thick and black. And, at the risk of sounding corny, I've found a lot of the D&G products are great for big events—they photograph really well.
What tricks have you learned from the pros?
A lot of girls have a hard time applying red lipstick—it bleeds out and gets everywhere and can be a bit daunting. Start by tracing the outline of your lips with a corrector pencil that's the color of a concealer. It keeps the lipstick from spreading and will do any necessary clean-up after you apply the color.
What's it like to be considered the new Marilyn?
I've always loved her, but the comparison is probably aesthetic—I'm kind of a signature blond, I'm curvy, I've embraced my femininity and my sexuality. But I certainly don't have that lifestyle. We've lived in different times and come from different places. She was from the middle of nowhere. I'm from Manhattan!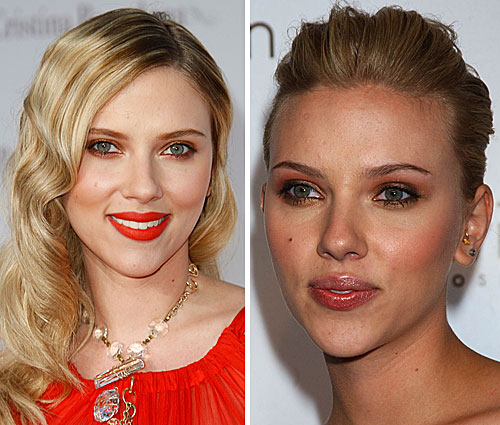 SCARLETT'S TOP PRODUCTS
Dolce & Gabbana The Make Up Classic Cream Lipstick (in Dahlia and Devil). Johansson, who is always on the lookout for "really opaque lipsticks with a good consistency," is addicted to it.
Dolce & Gabbana The Make Up Perfect Finish Powder Foundation (in Creamy). This makeup "is almost like a three-in-one, so you don't feel like you're piling on foundation and powder and concealer."
Jurlique Purifying Mask. Johannson says it "also works as a spot treatment."
Kanebo Sensai Cellular Performance Total Lip Treatment. "My favorite thing in the entire world. It feels like a million bucks."
And don't forget to help me make this blog better. For this you just have to vote and leave your comment. Thank you!