Spring is the time for new lipstick releases, as we could see in the previous years. And we can see the same situation for SS16, too.
I have already posted about the new releases from Clarins and YSL. But there are just so many more coming out our way – think Guerlain, Lancome, Chanel, Tom Ford, Givenchy, Clinique, Estee Lauder, Armani and more.
Today let's take a look at three of them: Chanel, Tom Ford and Givenchy.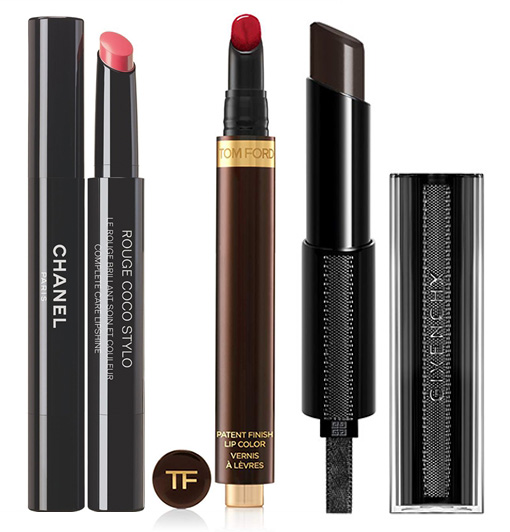 Chanel  Rouge Coco Stylo (Complete Care Lipshine) ($37 from Chanel)
"The intensity of a lipstick, the shine of a lipgloss and the comfort of a lip balm — all in one creamy yet lightweight formula. This innovative formula is enriched with nourishing Apple Seed Extract and hydrating Jojoba Oil and Coconut Oil. Silk Powder, Beeswax and special ingredients help visibly smooth, plump and add brilliant 3D shine to the lips."
Available in 8 shades, the one shown above is  202 Conte.
Givenchy Rouge Interdit Vinyl (£24 from Harrods and Escentual)
"A decidedly urban lipstick for women in the know, combining extreme shine, impactful shades and plump-up effect thanks to its vinyl finish. The secret of its formula relies on the mysterious Black Rose oil, a rare and precious active ingredient delivering long-lasting extreme moisture and comfort. Reacting to the pH of the lips, it creates a different shade on every woman. This unique lip enhancer can also be used as a top coat on any other lipstick to darken its shade."
There are 14 shades, the one shown above is  16 Noir
Tom Ford Patent Finish Lip Color ($52/ £38 from Tom Ford)
A high pigmented gloss that has a patent effect finish. There are 8 shades available, the one used for this feature is Stolen Cherry.