It's summer and I assume that every girl wants to look her best.
Of course, to achieve any results one should combine a lot of things, such as healthy nutrition, working out and the right beauty products. Professional massage (course, not just a session) is very effective when it comes to good looking legs, thighs and butt.
But let's admit it, with such a busy life style often it's hard to commit to a course which takes quite a long time.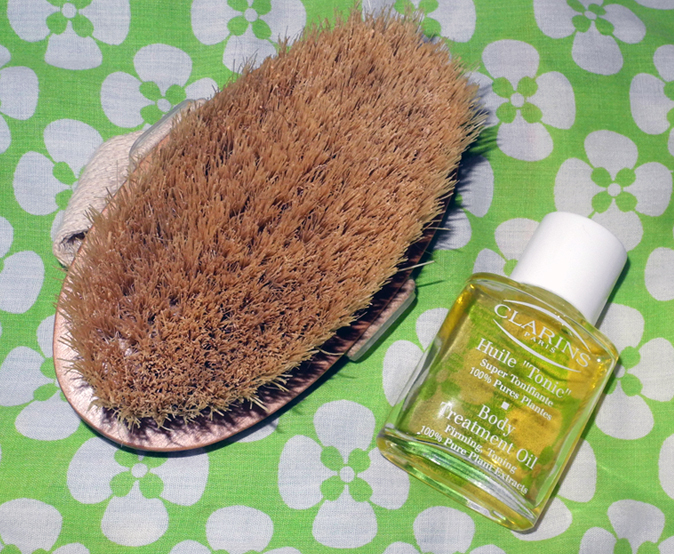 This is why it's important to get at least  some kind of massage, even if you do it yourself at home. It takes only five-ten minutes and you will definitely see the results after some time. The texture of the skin becomes smoother and softer.
My personal must-have is Elemis Body Brush, I have tried different brushes  but this one is my favourite. It may feel a bit harsh at first but you get used to it soon. I did a detailed review about this product, so you can take a look here.
I also find that different firming, lifting and anti-cellulite products are pretty effective, too. By this I don't mean, that you will see all the "results" that are promised, but they do contribute to the results, as well!
When I work out I use Elemis'  Cellutox Oil.  And after I've brushed my legs,  thighs and butt with the Elemis Body Brush, I massage some Clarins' Firming & Toning Body Treatment Oil which smells absolutely divine and is a pleasure to use. It's been a part of my mourning routine for several weeks now and I am addicted to the scent and the effect.
Just make sure that your skin is damp when you are using the oil. I can definitely see that my skin is softer, smoother and, dare I say, silkier when I use this oil.
Although I love my perfect little routine, I plan to, somehow, squeeze in salon visits for a pro massage… Wish me luck!
Clarins is available from Escentual.com,  Nordstorm,  Sephora, Boots,  Bergdorf Goodman, Selfridges, Harrods