Tag: affordable cream blush
It's not a secret that I love luxury cream (liquid and gel, too) blushes so for me it's a great investment. But  some of the readers asked me to review several  affordable blushes.
I've already reviewed Max Factor and Maybelline blushes so now it's time for NYX. I have to say that I've got this blush specially for the review.
The shade that I have is called Hot Pink and let me tell you, it is really hot! The colour is very bright and extremely pigmented so if you have a light skin tone  – be very careful with the application. You will need the tiniest amount of this product.
The price in the UK is £9.95 but in the Sates it's much cheaper and retails for $6.50 only. You get a pretty big blush for your money, here is just the comparison with Max Factor's one.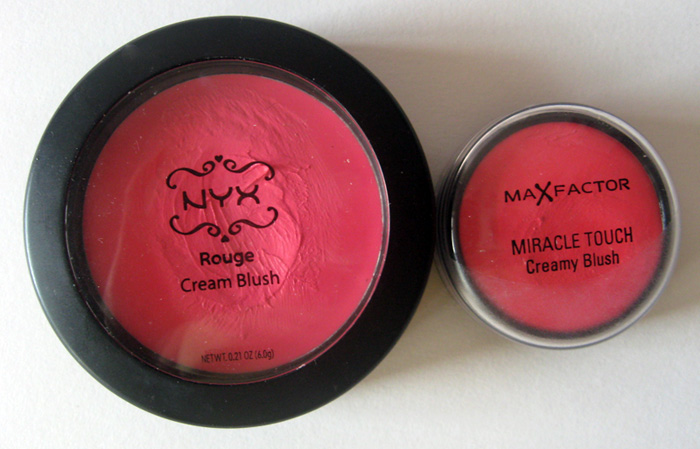 It is easy to use this blush, the texture is nice and I like the way it blends; you can get a natural finish if you blend it well. This particular shade looks great on
If you read Makeup4all for some time now, you've probably noticed that I love cream/liquid/gel blushes and most of the time they are quite expensive. Well, luxurious blushes is something that I really like.
But is there a chance to get a great product for an affordable price? YES, there is! Today I want to tell you about the Max Factor Miracle Touch Creamy Blushes.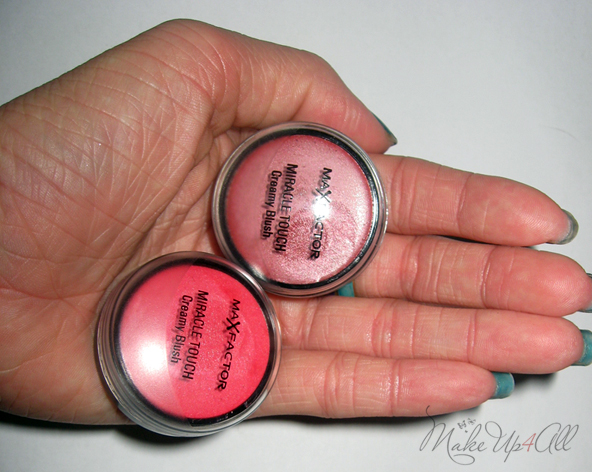 These are tiny and you can see how they look like when placed in my hand. I actually really love the size because it's so easy to take the blush with you. But despite the size, it will take you forever to finish this product. You will need the smallest amount of these, especially when you have fair or light skin. I use just one or two dabs for both cheeks and that's enough!
The shades that I have are called 18 Soft Cardinal and 09 Soft Murano  and here they are: natural light and flash.