I am loving the look of this new ArtDeco makeup colletion inspired by Miami and summer weather.
You get lip glosses and eye shadows in a stick form, waterproof mascara, long-lasting  eye liners and juicy shades of nail polishes. Everything you need for a warm-weather makeup bag…
And how pretty is the promo image?
The products are:
Glossy Lip Color: 12 Glossy Orange, 16 Glossy Pink Grapefruit, 20 Glossy Strawberry (love the look of it!), 26 Glossy Exotic, 32 Glossy Havana and
When it comes to more affordable brands, ArtDeco is one of my favourites, and I always try to check out their new releases when I am near their counter. Here is a preview of the summer 2014 makeup collection – Jungle Fever.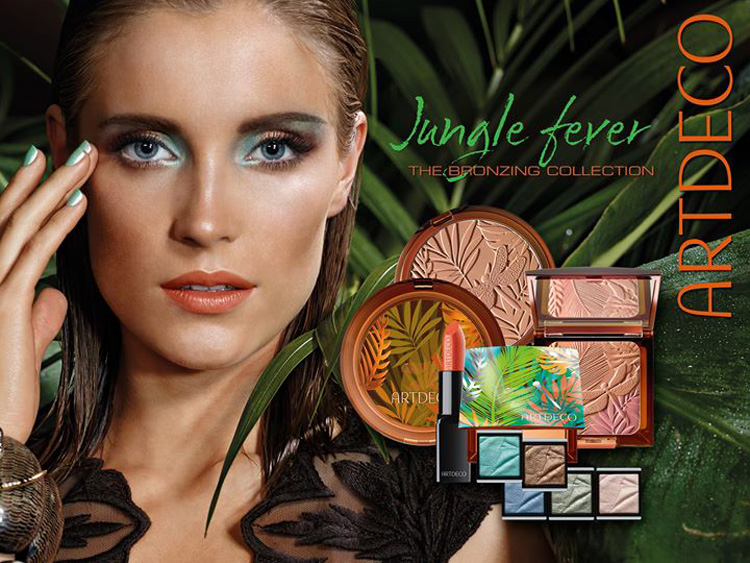 If you are familiar with the brand, you know that with each collection they bring out a new design of their beauty boxes, and here is how the pattern looks like this time.
Below you can see a trio beauty box and Bronzing Glow Blusher  Queen Of The Jungle. You actually get three shimmering shades in one compact: coral, soft fuchsia and rosewood. You can use them individually or  mix together.
There are eight new Art Couture Eye Shadow to choose from: 27 sugar pearl, 12 earthy-brown, 20 golden earth 83 sweet violet;  49 gold green, 32 green jungle 61 jungle river and 73 blue stream.
ArtDeco say that the texture combines the best features of a powder, baked, cream and liquid eye shadow. "The delicate texture becomes a