In the era of social media we are very lucky to learn the best tips and tricks from Pro MUAs directly. We can follow them on Twitter and Instagram, watch their videos and interact in general.
Makeup by Val Garland
I am always fascinated not only by their work but also with their stories and personalities. In my opinion,  it is important to learn as much as possible from different people and try different things to find your own style eventually.
Here are two videos that
One of the best Make-Up Artists in the World – Charlotte Tilbury recently started her blog.
She  often works with Kate Moss, Penelope Cruz and Victoria Beckham, to name just a few.  Created the looks for Fashion Shows (think Donna Karan, Dsquared and others)
Besides that, Charlotte created numerous magazine editorial and cover looks and worked with Tom Ford to create his makeup line.
Besides all her professional qualities, she is a very lovely person and you can see it for yourself by following her on Twitter.
Here are just some of the looks that Charlotte created.
To see her work, including some video tutorials – click here.
Today let's take a look at the new launches in the world of luxury makeup. The first one is the new lipstick by Chanel called Rouge Allure Velvet.
It is a matte lipstick with a light velvet formula enriched with jojoba oil to moisturize the lips. This lipstick will give a rich and opaque coverage.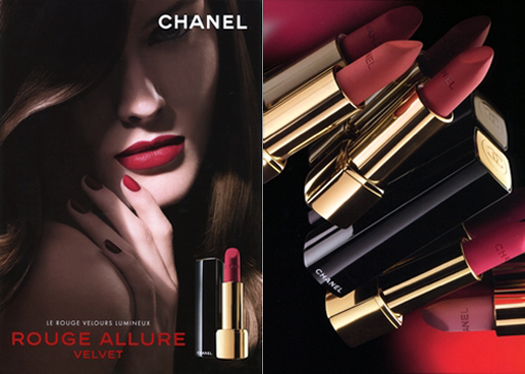 There will be 8 lipsticks divided into four groups:
Beige Troublant(beige): 32 La Ravissante, 33 La Distinguee.
Rose Insolent(pink): 34 La Raffinee , 37 L'Exuberante.
Rouge Magnetique(red): 38 La Fascinante , 39 La Somptueuse, 40 La Sensuelle.
Brun Envoutant(brown): 41 L'Exquise.
To celebrate the launch of the new lipsticks Chanel also introduced three new nail polishes and a matte top coat.
08 Pirate, re-lauch of the famous red
519 Rose