Tag: cool toned highlighter
Regular readers will know how much I love Watercolour blushers from Daniel Sandler. In fact, I have written a very detailed review of them with tips from Daniel himself. 
So this feature will be mostly about the new shades, and  not an in-depth review.  And there is a kit of four colours! It retails for £49.50 while a single shade is £16.50 which makes each shade from the kit retail for £12.3!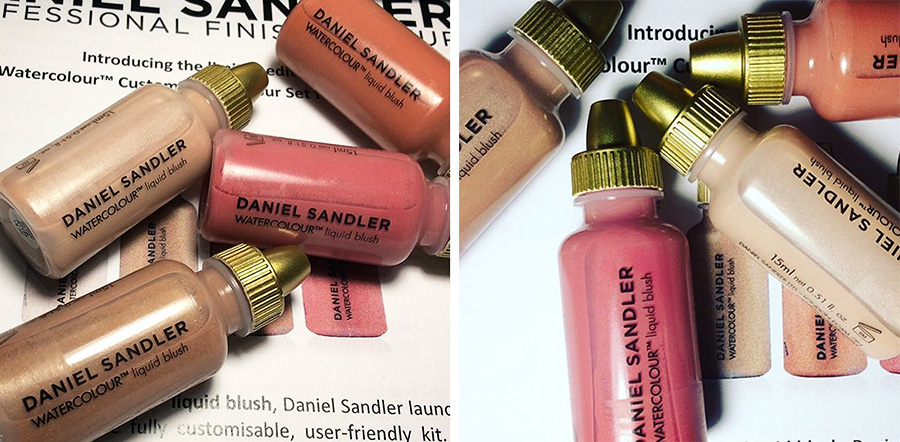 So what are you getting?
 Moonglow, sheer, pearlescent white highlighter
 Sun Glow, a warm, golden bronze illuminator
 Luxe, a delicate, matte peach
 Pop, a medium toned, matte pink
Each bottle is 15ml.
My personal favourite shade is
Today I want  to show you three of my favourite  creamy highlighters…
Please excuse the finger marks on the products,
I swear that I've tried to make them look decent before taking the photo
The first one – BECCA's Shimmering Skin Perfector in Pearl is my personal favourite and the one that I use on myself all the time, it was recommended to me by Lisa Eldridge years ago, and I love it. It adds a beautiful cool-toned  glow to the face, without being shimmery. You can that luxe glow which you can see in top photo shoots. There are several ways you can use it, all the details here.
The second one is Benefit's High Beam, and I have used half of it already actually. While BECCA is more subtle, this one gives more glow and has more defined pink undertones, but I still love and use it a lot.  I like the fact that