It's a super hot summer and we all should really think about the products that we  are using to protect our skin and hair. Today I am not going to tell you why you have to do that ( only lazy one never read any articles about that!). But I am going to tell you about the face cream with very high protection.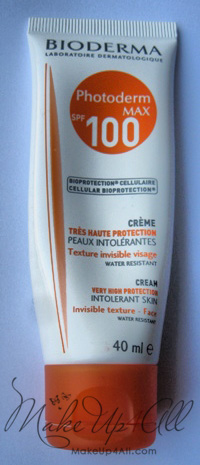 And it is
Bioderma Photoderm MAX Cream with SPF 100
I really like how it is described and this basically explains why I like this cream so much:
"Photoderm MAX cream is a sun protector for very fair, freckled skin, which burns easily in the sun, and for skin exposed to strong sun conditions (tropics, glaciers, etc).  Photoderm MAX's texture is suitable for all skin types and covers up blemishes. Consisting of a selection of anti-UVB-UVA filters, Photoderm MAX cream's very mild formula offers MAXimum sun protection. Photoderm Max cream is rich in anti-radical active ingredients and combats premature skin ageing. Photoderm MAX cream is sun, water and perspiration resistant."
My Thoughts

When it's very hot and I have to be outside for a long time I like to use maximum protection for my face and I have to say that this cream never fails!
I would also like to say even more,