It's a super hot summer and we all should really think about the products that we  are using to protect our skin and hair. Today I am not going to tell you why you have to do that ( only lazy one never read any articles about that!). But I am going to tell you about the face cream with very high protection.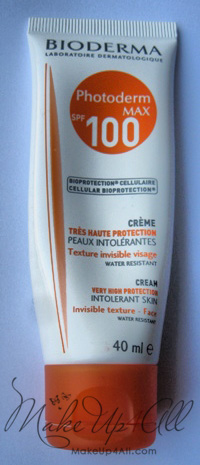 And it is
Bioderma Photoderm MAX Cream with SPF 100
I really like how it is described and this basically explains why I like this cream so much:
"Photoderm MAX cream is a sun protector for very fair, freckled skin, which burns easily in the sun, and for skin exposed to strong sun conditions (tropics, glaciers, etc).  Photoderm MAX's texture is suitable for all skin types and covers up blemishes. Consisting of a selection of anti-UVB-UVA filters, Photoderm MAX cream's very mild formula offers MAXimum sun protection. Photoderm Max cream is rich in anti-radical active ingredients and combats premature skin ageing. Photoderm MAX cream is sun, water and perspiration resistant."
My Thoughts

When it's very hot and I have to be outside for a long time I like to use maximum protection for my face and I have to say that this cream never fails!
I would also like to say even more, one member of my family is allergic to sun and has a very bad reaction. So this cream was subscribed by a doctor and it really helps with the situation. Without  Bioderma cream the reaction was horrible and now it's way better.
You don't have to use a cream with SPF 100 and I don't use it all the time, I also have creams with lower SPF factor . But I use this  one when the weather is really hot and for the first days of vacation.
So far this is the best face cream with high protection that I've ever tried! And if it helps even those who are allergic to sun is says a lot!
And what sun creams for face do you use? What SPF? What about body? I usually use SPF 30 (for body) for the first days of my vacation and then 15.
Unfortunately, I don't remember the price for this product and  most websites don't have the price, but one on-line US shop has it for $40.

From Feel Unique and Escentual