Tag: givenchy Nicolas Degennes
Believe it or not, but we will start seeing Spring 2013 makeup collections in December/January which is not that far away so  maybe it's time to take a look at some of the them?
Today I want to show you Givenchy's  Hotel Privé collection which, according to Nicolas Degennes (International Artistic Director) is a collection that "conveys a subtle, natural elegance. Colours that express gentle pleasure and cosy intimacy. Textures that are easy to use. The very definition of refined, low-key luxury."
The inspiration for this collection were the various French hotels Mr Degennes stayed in, their atmosphere, colours, materials, the feeling of comfort they give.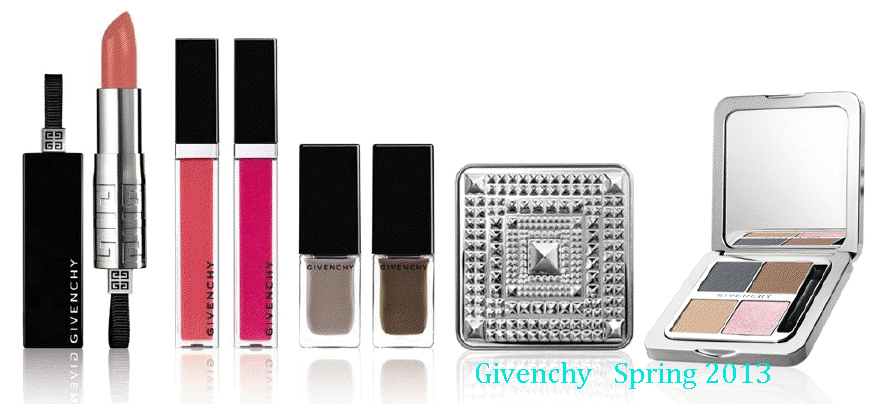 The products are:
ÉCRIN PRIVÉ Eyeshadows, £46
This palette looks very luxurious, although I personally do love the signature prism design of the brand. There are three (mica free) mattes shades:  taupe, grey and natural beige. The fourth shade is a  iridescent rose milk pink highlighter.
ROUGE INTERDIT, £21
Here is a preview of Givenchy Spring 2012 makeup collection. This collection is all about fresh and pastel shades for eyes and juicy red lips. Very interesting combination from Nicolas Degennes.
This collection includes:
Le Prisme Yeux Quatuor Bucolic Blossoms N° 79 – £35.00
An eye shadow palette where Brown is for wood and soil. Green for tender grass. Pink for the tenderness of fruit tree blossoms. Mauve like the first blues of Nature awakening. Pearlescent for the freshness of its light.
Le Prisme Visage Bucolique in Bucolic Blossoms N°1 – £36.50
Unique Compact Powder – Spring Glow. Bucolic Blossoms compact powder illuminates all skin types with a light, energizing and glowing veil. Its micronised texture enables deep colour inlaying and an outwardly "blurred" makeup effect, in perfect harmony with the rural and pictorial world of this collection.
Le Prisme Blush Bucolique,  £31.00
Bucolic Rose N° 1
Bucolic