Another month, another "Top 5" from one of my favourite brands. And this time it's all about Daniel Sandler Cosmetics.
For those who are new to the line, I'd describe it a brand with high-performing and great quality products that cost less than your "luxury brand products" but deliver the same results. Plus there are quite a few unique and innovative offerings.
So here is what I've chosen.  Please note that the photos are taken in direct sunlight.
1.Invisible Radiance Foundation and Concealer
I have mentioned this product so many times already that, I think,  you all know by now how much I like it. It is definitely one of the best "base" products I have tried. It works amazing for my dry skin – evens out the skin tone and gives  a beautiful glowing/dewy finish. To read a detailed review click here.
2. Watercolour Blushers
These are unique liquid blushers that are absolutely fantastic. I have written about them so many times, that I'll just include the links, so that you can read everything you need to know and see the swatches here, here and here. I also have tips from Daniel himself on how you can use his most famous creation!
3. Watercolour Creme Rouge
It's not a secret that I love luxury cream (liquid and gel, too) blushes so for me it's a great investment. But  some of the readers asked me to review several  affordable blushes.
I've already reviewed Max Factor and Maybelline blushes so now it's time for NYX. I have to say that I've got this blush specially for the review.
The shade that I have is called Hot Pink and let me tell you, it is really hot! The colour is very bright and extremely pigmented so if you have a light skin tone  – be very careful with the application. You will need the tiniest amount of this product.
The price in the UK is £9.95 but in the Sates it's much cheaper and retails for $6.50 only. You get a pretty big blush for your money, here is just the comparison with Max Factor's one.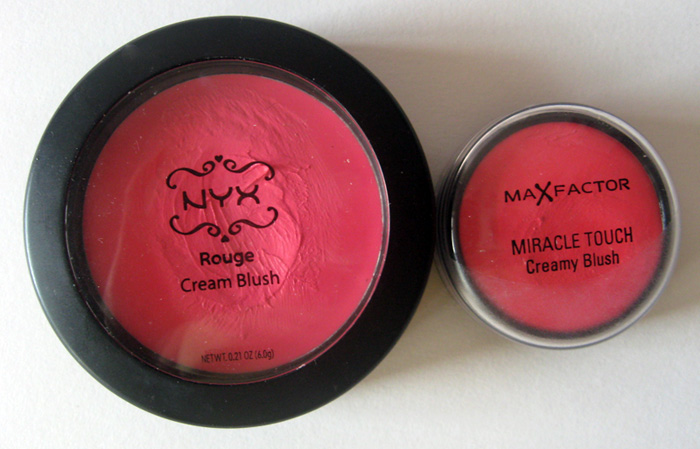 It is easy to use this blush, the texture is nice and I like the way it blends; you can get a natural finish if you blend it well. This particular shade looks great on