October is a Breast Cancer Awareness month and I did post about some beauty launches (Bobbi Brown, Origins, Elemis) that support the case on my Facebook page.
I also posted about the  Japonesque  sets that were released to support the case. There are five sets and I was given three of them to show you. When you purchase any of the following products or  kits, £1 will be donated to Breast Cancer Awareness Research.
I have:
Japonesque Pink Heated Mini Lash Curler (£12.50).
This is actually my favourite product. I did not have heated lush curlers, only shu uemura's, so was a bit nervous to try. But there was no need to be afraid.  I use them after mascara and hold for several seconds. They do not 'burn' your lashes and it's not really hot actually. And the results are great and long-lasting.
This is actually a great product to have and now I recommend it to my friends. Plus I think the price is great!
Japonesque Brush Set Touch Up Tube Pink (£16.95). You get a foundation brush, a lip brush, two eye detailers and blush/powder brush.
I am actually a huge fan of Japonesque brushes and I use them on myself and on other people, I think the quality is
Japonesque was founded 25 years ago but it is already a cult brand. It was originally made by Make-Up Artists for Make-Up Artists.  Brand's tools were inspired by the professional make up tools used in kabuki theater in Japan.
These days Japonesque has a big range of brushes and accessories which are loved by a lot of  Top professionals from the beauty industry.
This is why I was very excited when I was given some of their brushes to write about.  In this post I will tell you about the travel brushes for face and in future I will let you know about the brushes for eyes and eye brows. Unfortunately, I don't have a lip brush to show you.
The packaging is nice, simple and really helpful.  They have some very handy instructions on the back of  each box. All I can say is that I'd really appreciate it back in the days when I was getting my first brushes.
And here are the face brushes that I have in all their glory 😉
933 Travel Powder Brush, 924 Travel Blush Brush, 914 Travel Angled Foundation Brush, 910 Travel Concealer Brush.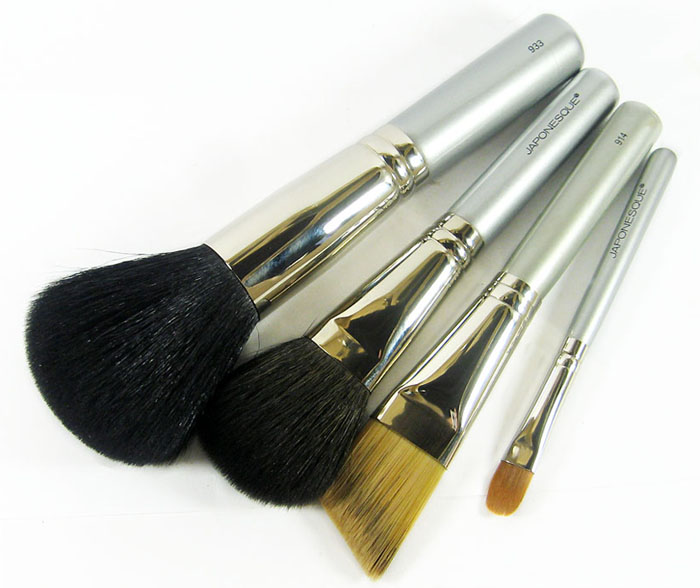 So now let's take a look at each brush, shall we?