I haven't booked my summer holiday yet but  Neiman Marcus and  Bergdorf Goodman already have some products from the YSL's makeup collection available already. And, like it or not, soon we will see all of the releases in stock. Hello, Autumn?
But it has always been like this in the beauty world, so there is nothing to complain about.  And, to be honest, Autumn collections are  my favourite: rich browns for the eyes and luscious berries & plums for the lips!
This collection is called Scandal which is a tribute to the YSL's most-known collection, it celebrates audacity and edgy femininity.
Some of the products are:
Scandal Collection Couture Palette Collector ($60)
Sheathed in dark green leather and laser cut with a satin YSL Cassandra includes rich shades of olive green, shimmering burgundy, golden bronze, and
This summer YSL's makeup collection was inspired by Yves love for different blue shades and the  sea. Btw, I still haven't seem that new film about him, have you?
While I am not entirely sure what exactly the brand was trying to say with the visual below, I like the Bleus Lumiere release, regardless. And I really like the blue and fuchsia on Cara and the baby blue nail polish on the other model.
So what new products are a part of this collection?
Kiss & Blush, $40/£27
Palette Collector Summer 2014, $60
YSL are launching new quints, and here is the first look.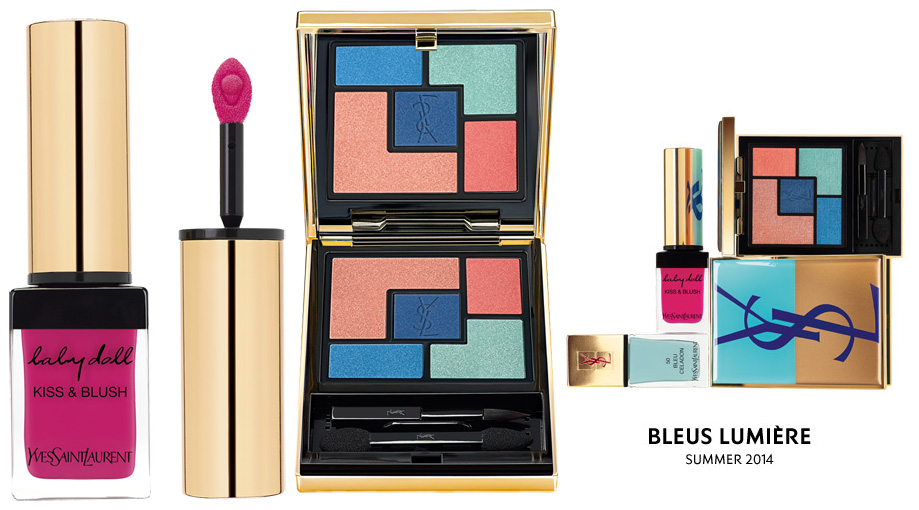 There will be two blue eye pencils and nail polishes in baby blue and indigo. And these four products have to be my personal favourites, along with the