So many new lip products were launched recently, so let's take a look at some of them:
Dior Fluid Stick, £26, available in 16 shades.
Dior know how do make good lip products and how to present them!Probably the most exciting launch. This is basically a super-pigmented and glossy "liquid lipstick". I would recommend checking out Dior's website for all the details, tips and the awesome promo video. This launch reminded me why I love makeup so much, it is beautiful, and inspiring…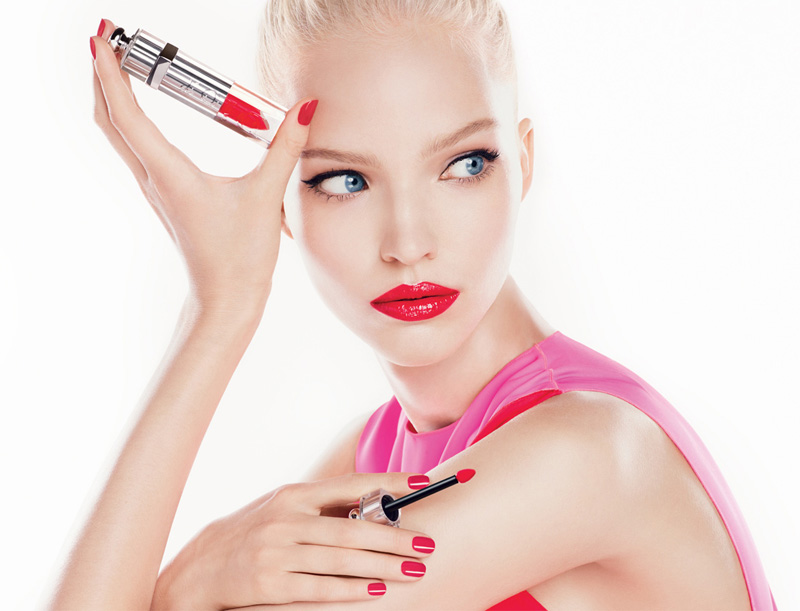 Dolce&Gabbana Classic Cream Lipstick, £24. Available in 9 shades.
If I'd like a beauty product inspired by a celebrity – that would be definitely inspired by Monica Bellucci, she is the most gorgeous woman, in my opinion. I just only have to decide which shade to get now…
GOSH Lip Lacquer, £5.99 available in 8 shades
These look super cute, and
If you read my Spring 2011 Magazine edition, you've probably noticed that I named Hourglass Aura collection as my favourite collection for Spring.
I already wrote about the Hourglass Cheek Stain and now it's time for a Lip Stain. These come in 3 shades and I have the most gorgeous shade which is called Scarlet and I guess you can imagine the colour of it, right?
First of all I have to mention the sleek and elegant design, the package is pretty heavy and has a luxurious feeling to it.
But what about the product and the application? I have so many thoughts so I've just written them all down in no particular order.
Make you that you exfoliate your lips and properly moisturize them before using the product. But don't apply the tint straight after the moisturizer. If you don't do it, the tint may enhance the dry parts of your lips and may look patchy.
I assume that it's easy to use the lightest shade straight with an applicator and it's not that difficult to use this method with the dark shades but you have to be really accurate.
This particular shade (Scarlet) needs a very precise application so I would recommend using a lip brush and a lip liner if you wish so. I personally would recommend using the lip liner after the tint so that you can correct some minor mistakes. Plus you can always use your concealer around the lips. I wrote about this trick when we were talking about red lips.
You can make your stain look quite natural or