I've been meaning to write this post for a while now and the conversation with the lovely Daniel Sandler on twitter(don't forget to follow him…yes, that Daniel Sandler, Make Up Artist, and yes, you are right when you are thinking about the Watercolours ).
So today's topic is makeup in films and shows. The question is… Do you think that every time you see a beauty product in a film or show – the company paid for that. Or was it just a part of the plot that the actress had to use lipstick/mascara/powder/perfumes/whatever and it was just a random choice, not a particular brand.
If it is a product placement (this is how it is called) why do they show the product for a second only and, unless you are  very good at brands, you will never recognize what brand it was. Plus most people couldn't care less, only us, makeup fans, always want to know what product was shown (or is it just me?!)
The other question. Who cares? I mean would you get something because Carrie uses this beauty product or Blair uses that beauty product?  Maybe I would care and this would influence me when I was  a teenager, although I can't imagine where from I would have money to buy Chanel makeup, but now… I mean come on? Does it really work?
The other thing is when you see your favourite celebrity using a certain makeup product in real life! Remember how Angelina Jolie was spotted using Chantecaille gloss? Well, I read that it was sold out within hours. Amazing, isn't it?!
So
I know that some of you don't like Sex and the City so don't bother reading this post;)  I already wrote why I like this show : "because of their friendship and because of nice places and clothes". But guess what?! Everyone looks at their clothes and style but I've never seen anything about the beauty and makeup that the girls use!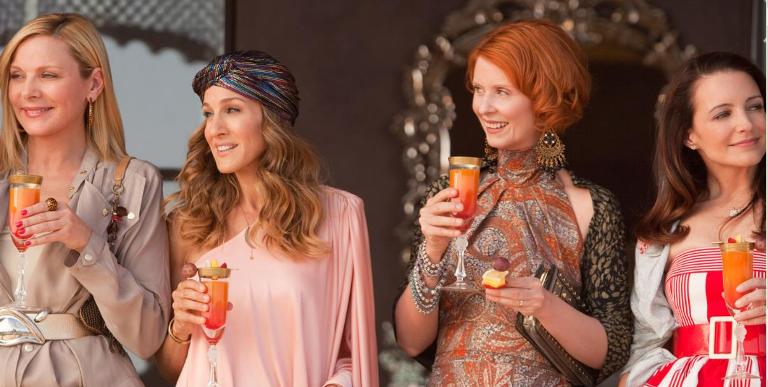 Did you ever wonder what  beauty brands Carrie, Samantha, Miranda and Charlotte use? When I was watching Sex and the City series again (in March) I coudln't help myself spotting different makeup items. So I got a great idea… To make screenshots of all such products! Unfortunately, I came up with this idea only when I was already watching the 3rd season but I remember what brands I saw, so no worries 😉
At the premiere of Sex and the City 2
But I still managed to make some screenshots ! Are you curious? Then find out the answer just after the cut!!!