I plan on writing a post about my  favourite beauty products of 2013 in New Year, but thought that I would still write about my December 2013 favourites, since there are several very nice products I'd like to share about.
Hourglass Arch Brow Sculpting Pencil in Soft Brunette  (review)
This has been a favourite every single month ever since I've got it.  It is perfect, I only wish the shade was a bit cooler, but that is fine.
Rouge Bunny Rouge Raven Glaze Lacquer Liner  (review)
It seems like I have been using this eye liner almost every day.  It is super easy to use and leaves a beautiful glossy black line.
ArtDeco Cream Rouge For Cheeks and Lips in 17 Creamy Mauve (review)  and Tarte Amazonian Clay Blush in Blushing Bride (review).
I like this blush combo so much that I even dedicated a post to it!  You can get a natural sheer wash of colour with ArtDeco, and add dimension and intensity with tatre. Plus such layering means long-staying power.
Bobbi Brown High Shimmer Lip Gloss  in Oyster (review)
I've decided to re-discover some old favourites, and this is one of them. I love shimmery cool toned glosses from time to time, and this gloss from Bobbi Brown is uber gougers on the lips, especially paired with
Regular readers know that I love my blushes… And I would like to show you my favourite blush combination that I have been wearing non-stop recently.  I adore my Amaryllis, but sometimes I just want something different.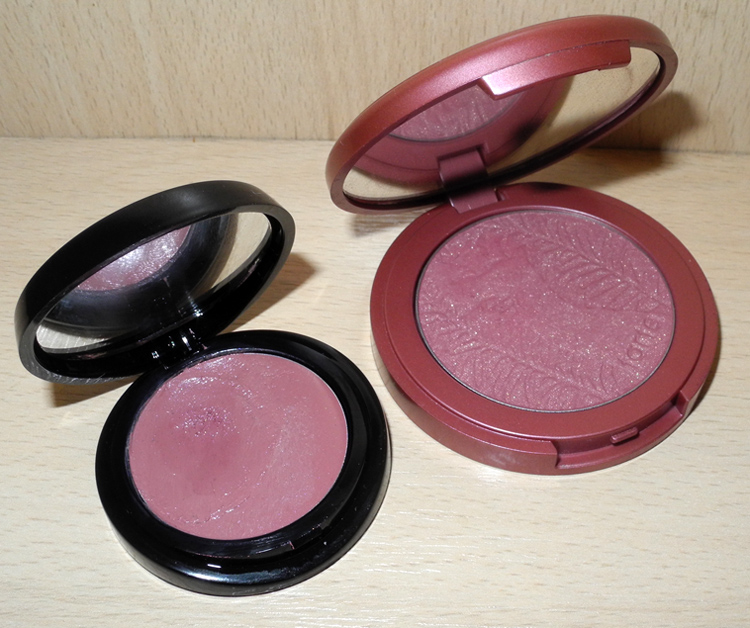 This is when my berry/plummy/mauve blushes get some love. I am a fan of such shades for AW, as they look nice with my light skin and dark eyes and hair, they instantly brighten up the complexion and look nice with cool toned pinks and plums that I often wear on my lips.
I really like ArtDeco Cream Rouge For Cheeks and Lips in 17 Creamy Mauve (review), it is such a gorgeous shade but
I really want to try Tarte Cheek Stain. It is a water-based gel cheek tint; it is alcohol-free and oil free so it won't dry out the skin or clog pores.
It is written that it contains "Skinvigorating™ ingredients like a T5 Super Fruit Complex™"(a blend of the five most active superfruits: goji, açaí, maracuja, acerola, and pomegranate) which is  pure water to help skin retain moisture and mineral-derived pigments known for their soothing and softening properties.
It is formulated without: Parabens, Sulfates, Synthetic Fragrances, Petro-Chemicals and Phthalates.
Sounds great to me!
I like the shades Flush (sheer berry/ raspberry scented) and Blushing Bride (sheer deep plum/ plum scented). The idea that they are scented with the berry/fruit that has a similar colour makes me wanna get this blush even more.
By the way, BECCA's Beach Tints have  similar concept. But they are scented like the fruit/ berry they are named after.
I am not sure where to get Tarte in the UK/EU unfortunately. It is available at Sephora for $30.