I was given two  products from the upcoming Clarins Autumn collection to show you and I would like to start with the Crayon Khol as it is a brand new product.
There are eight shades and I have 05 Intense Violet.

I  have been wearing it every day for the past week and am ready to share my impression.
In terms of the formula – it is a soft and smooth pencil which glides on the skin without dragging or pulling it. As for the pigmentation – it is great, as well.  You get a nice colour pay-off and deep shade with one swipe. 
But what about the staying power?
As you would imagine,
I am excited to show you these beautiful Long Lasting Waterproof Eyeliners by Daniel Sandler.
First of all, I have to say that I really love the design, it looks very elegant and chic. These are the kind of eye pencils that are a pleasure to use.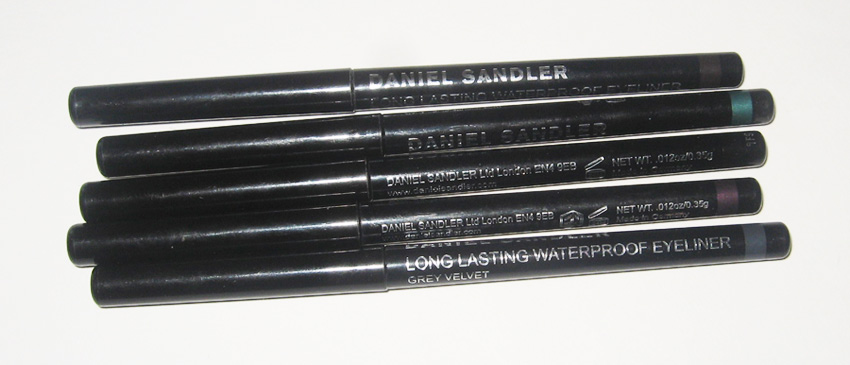 The shades that I have are Black Velvet, Brown Velvet, Purple Velvet,  Grey Velvet and Green Velvet. There is only one more eye liner in this range which is called Blue Velvet.
I love how thin  the eye liners are and that you actually don't need to sharpen them,  it's a great plus if you ask me.
These are actually great to use on the upper inner rim of the eye (which I love doing)  since these liners are so thin. Daniel Sandler eye pencils are also great for the using  as an eye liner  if you are not confident with the liquid or gel one, as it allows you to create a thin (or thick if you want) line.
I also love using these liners to