Tag: Smoky Eye Effect Eyeshadows
Last month I've made a post about the new Max Factor Smoky Eyes Eyeshadows (£7.99) so here is the review! I've got a sample  of shadows  #6 Citrus Thunder.
And I was happy when I saw this shade, so summery and beautiful.
The colours are gorgeous as you can tell from the swatch below. The  bronze shade has a lot of pretty shimmer in it and the green shade is just a pretty summery lime green. It's also easy to apply these eye shadows and I love that you need only 1 product to create a beautiful look.
And now lets take at look at the shadows applied
Don't you just dream to create a smoky eye with only one product?
Soon it will be possible with Max Factor's Smoky Eye Effect Eyeshadows. They will be available in September and the price should be £7.99.
This is what Max Factor creative design director Pat McGrath says :
"Today is all about how real women wear make-up, so gone is the 10 step smoky eye. Max Factor smoky eye effect is the new beauty essential. It makes creating the smoky eye quick and easy and it's available in a variety of shades to play up the latest eye trends and classic smoky looks."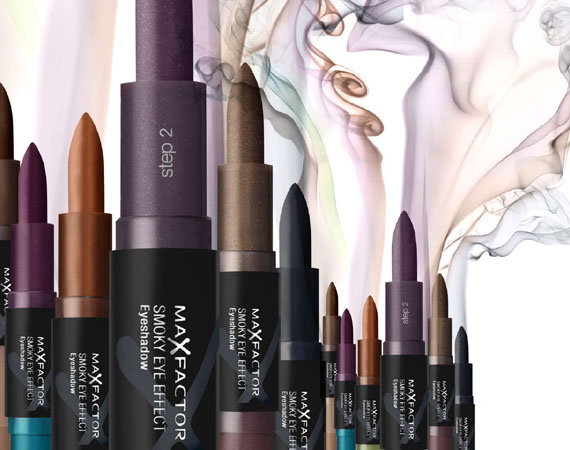 Designed with 2 simple steps in mind, the pen features different shaped heads; step 1 is rounded so you can effortlessly apply the lighter shade across the full lid, step 2 is darker and tapered to define the eye shape.
Velvety in texture, smoky eye effect blends easily to help you achieve a smouldering eye with total ease and without a make-up bag of brushes!
There will be 6 shades:
01 Max Factor smoky eye effect in Purple Dust
03 Max Factor smoky eye effect in Bronze Haze
04 Max Factor smoky eye effect in Onyx Storm