Tag: vintage inspired makeup
Here is the latest Dita von Teese's  collaboration with ArtDeco Cosmetics – Golden Vintage collection which was inspired by the Golden Age of 1940's Hollywood.
It is a very glamorous collection with everything you may need to create a holiday look, from red lipsticks and nail polishes, to beautiful powder and blush, and even beauty marks!
The products come in a limited edition gold design.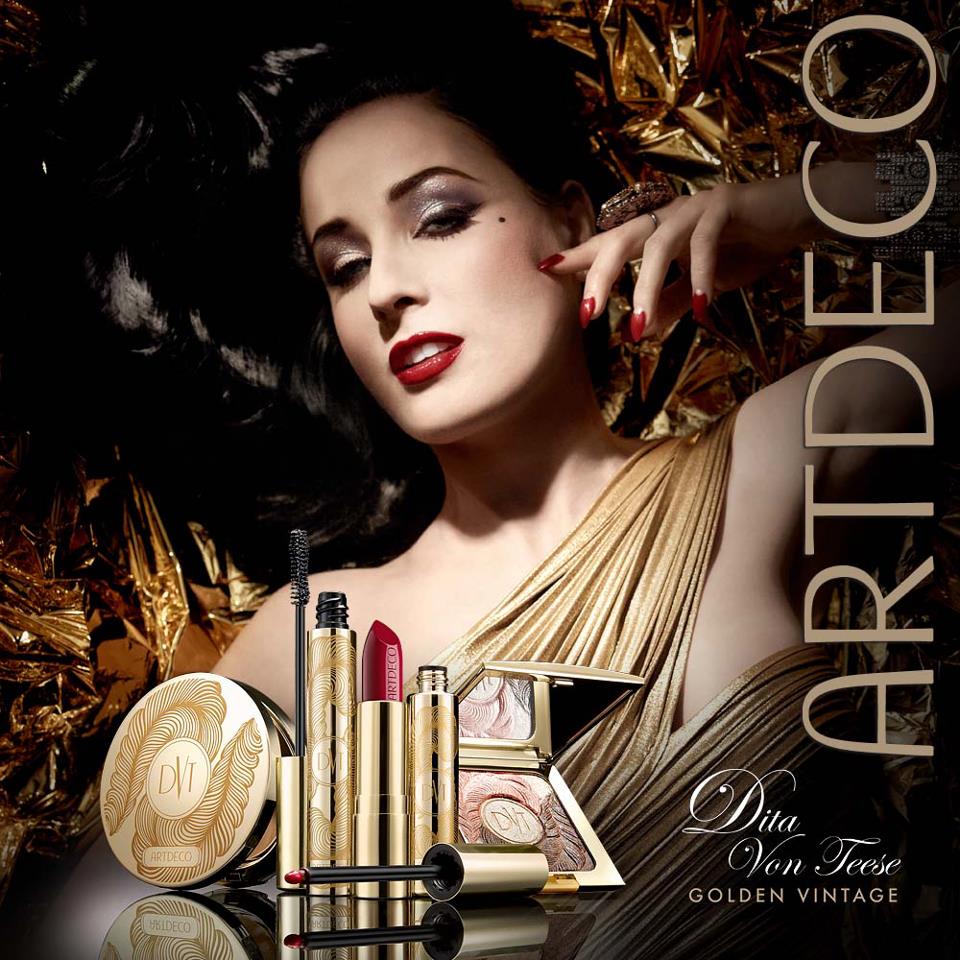 Face
Candelight Powder
Finely-milled powder with pearlescent pigments.
Golden Vintage Blusher in Enravish
Beauty Marks, come in different sizes.
Eyes
Golden Vintage Eyelights
Golden Vintage Lash Designer
Strip Lashes
26 Black
43 Black with crystals
Lips
Golden Vintage Lipstick
I'd love to thank Amy from Cafe Makeup for sharing the most amazing news on Twitter. I can't believe that I've missed everything somehow…
If you love Mad Men ( and I DO!), you probably already know that it's back from the 25th March. And it is very smart of Estee Lauder to make a mini collection of a lipstick and a blush inspired by the show.
So here is the photo of the products below:
Estée Lauder Mad Men® Collection Creme Rouge in Evening Rose, $40
Estée Lauder Mad Men® Collection Lipstick in Cherry, $25
Of course both are Limited Edition, but they are already available for pre-order. And
This beautiful Tailleur Bar Set is a must have for collectors and those who love vintage design.
A limited-edition coffret set containing a hand-pressed eyeshadow palette embossed with Dior's iconic new look woman and Serum de Rouge shade. Each set is individually numbered and cased in a white pebbled couture box.
Get yours at Neiman Marcus for $90