There are more, and more summer makeup collections that are being available now. Today let's take a look at tarte's newest release – Rainforest of the Sea. All the products are already available from Sephora.
There are tonnes of new products: makeup, skincare and brushes.
 Wipeout color-correcting palette (LE),  $45
"An all-in-one palette to correct discolorations, contour and brighten skin. "
Rainforest of Sea Eye Shadows Palette, $34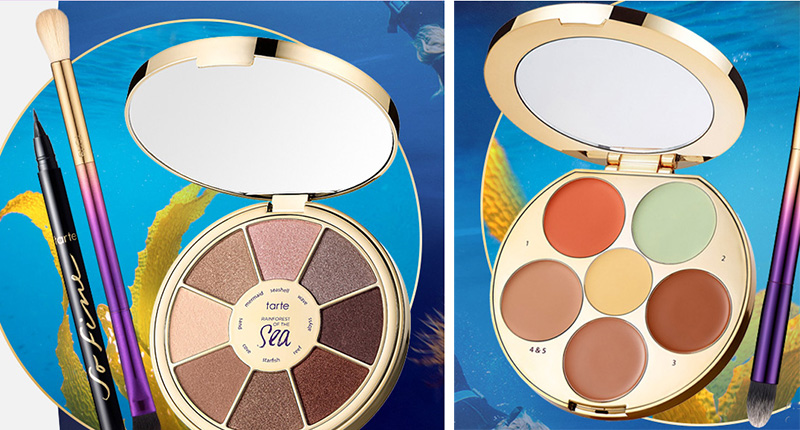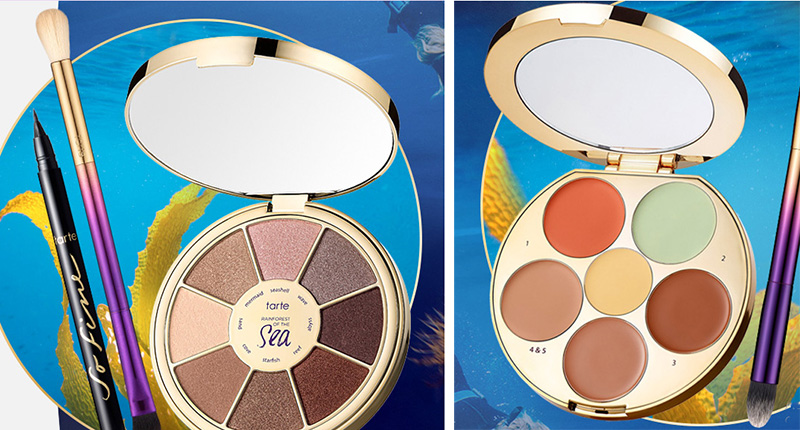 Rainforest of the Sea Quench Lip Rescue, $19
"A moisturizing lip balm in an array of sheer color shades. "
Rainforest of the Sea Drench Lip Splash Lipstick, $22
"A full-coverage matte lipstick with lip nourishing antioxidants. "
Shown are: Berry and Bonfire
Skin Twinkle Lighting Palette, $42
0.20 oz Perfecting powder in Filtered Light
2 x 0.085 oz Luminous perfecting powder in Sunlight, Moonlight
Water Foundation Broad Spectrum SPF 15, $39 12 shades; Fair Neutral shown
"A lightweight, full-coverage hydrating foundation infused with tarte's Rainforest of the Sea complex and non-chemical SPF 15 sunscreen."
Rainforest of the Sea Aquacealer Concealer, $26, 6 shades; shown in Deep
"A lightweight, 12-hour concealing serum with skin-soothing benefits that provides targeted, medium, buildable coverage."
There are quite a few dual ended brushes in the Rainforest of the Sea design, shown are Double-Ended Foundation Brush, $34 and  Double-Ended Eyeshadow Brush, $24.
As for the skincare, below are shown Deep dive cleansing gel ($25), Marine boosting 4-in-1 mist ($25) and Drink of H2O hydrating boost ($39)
They all are available separately and as a set, too.