Tarte Cosmetics have been killing it lately with their Brazilliance range, Amazonian butter  lipsticks, the sculptor contouring face slenderizer, loved by so many makeup addicts, and many other products.
But what are they offering for Fall?
There is a beautifully put together Rainforest After Dark collection. Let's take a closer look at the  products.


The star of the collection is definitely the limited edition rainforest after dark colored clay eye &  cheek palette ($38)
It is a palette which combines both makeup and skincare. All shade contain different clays, such as  rose clay (soothes skin around the eye area), vanilla clay (helps control oil to keep pigment in place  all day) and gold clay (maintains gentle skin balance and moisture).
 The shades, they are: bare to explore (pink beige), make a mauve (plum mauve), plum away with me (dark plum), up to no gold (gold), tan-gled up in you (tan), don't turn a-brown (dark brown), unleashed (nude rose blush), champagne (highlighter) and park ave princess (bronzer).
As for the rest of the collection, tarte are brining out some basic products which will help to create a perfect canvas for the colourful makeup and will help it to last longer.
For example, timeless smoothing primer ($39), which is described as  a "melt-in smoothing primer with innovative blurring and filling technology for a youthful appearance perfectly primed for makeup application."
The formula is infused with Vitamins C & E and green bean extract  which help the skin to look smoother and firmer.  Tarte suggest that their primer can be also worn on it's own, without the foundation on top.
If you need to cover up any imperfections –maracuja creaseless concealer ($24; available in 13 shades) is a product to look at!
It is a  full coverage, waterproof concealer  which is should improve the skin's texture and give a dewy and luminous finish.  This concealer has a rich and creamy texture which, as tarte suggests, works for covering acne/blemishes, redness, scars, hyperpigmentation, and dark circles.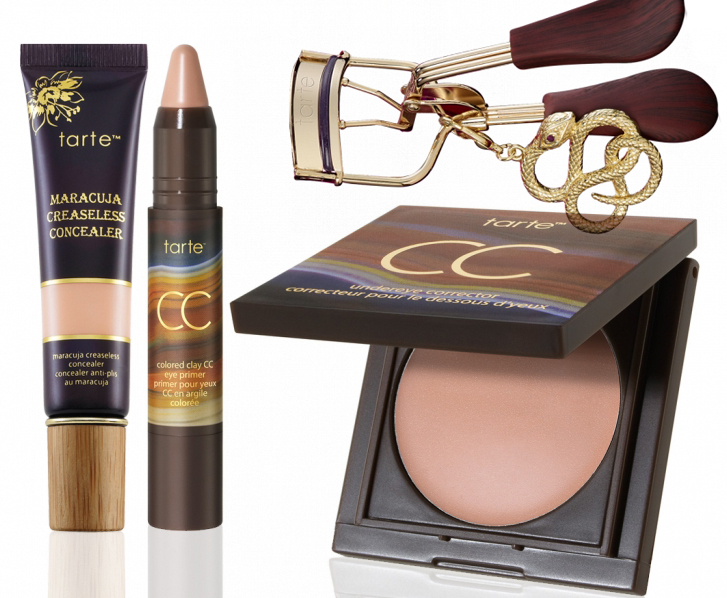 Everything else in "Rainforest After Dark "is all about the eyes. Let's take a closer look:
To start your makeup, you'd need a colored clay CC eye primer stick ($21)
"A universal eye primer infused with lid nourishing and color-correcting colored clay." It is infused with several types of clay which helps to absorb excess oil from the lids, evens out any discoloration and  instantly brightens the skin tone.  As a result, the eye shadows last for up to 12 hours.
And also some help from colored clay CC undereye corrector  ($24; available in 2 shades)
A CC product that helps to hide discoloration and dark  under eye circles thanks to the light diffusing particles. Not only in hides the problem, but also helps to combat it thanks by hydrating, conditioning and smoothing the delicate under eye area. Tarte also promise that it improves the skin tone and texture with time.
Besides various types of clay, this product contains caffeine, licorice extract, sodium hyaluronate & squalane and mica & silica.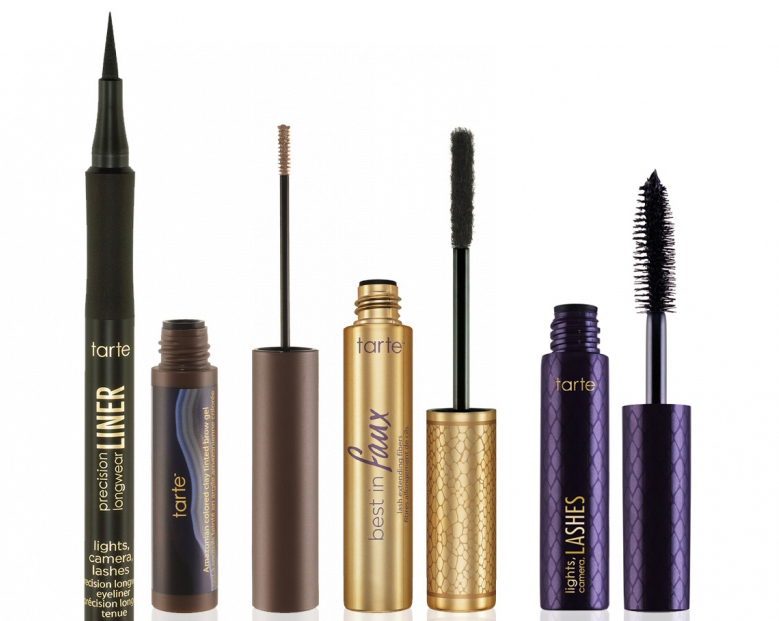 Now, that all the preparations are done, here are the products to follow with:
be charmed limited-edition picture perfect™ eyelash curler ($19)
Most Make-Up Artists will tell you how important good eye lash curlers are, tarte are brining out their version with a snake charm. The brand promises that the curlers should suit every eye shape and will give instant and painless results.
Follow with best in faux lash extending fibers ($19)
What is it, you may ask? Black sculpting fibers, which are made of nylon, that "instantly enhance lash length and volume to make lashes appear fuller, fluttery and fabulous. " It is also pretty easy to use: you apply mascara, than a coat of fibers, and another layer  of mascara on top. As tarte describe it: "Prep-Extend-Set".
To add even more drama to your eyes, the brand brought out  lights, camera, lashes™ precision longwear liquid eyeliner ($20)
This uber black liner with provitamin B5 helps you to get a precise line which doesn't smudge or fade for hours.
It is well known that eye brows frame the face, so to have those unruly hairs in control, tarte suggest  colored clay tinted brow gel ($21) which not only tames the brow hairs but also gives a perfect amount of color.  Rose and vanilla clay extracts don't irritate the sensitive area around the eyes.
You can buy all the products from tarte.com
 *this is a sponsored post