I am sorry about the lack of updates, work and life just got in the way, and I was away for a mini break at the end of last week which you already saw if you follow me on Instagram. But I  have so many news to share and so many collections to post, so, hopefully, will be able to do that soon.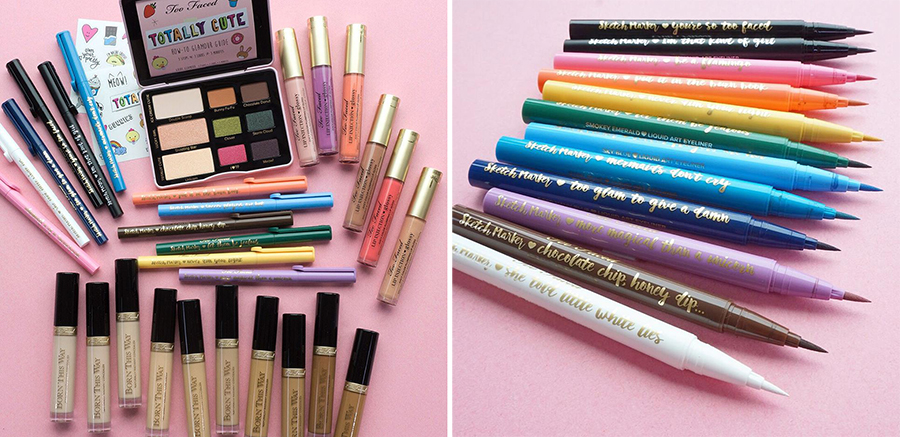 Let's take a look at Too Faced makeup collection for Autumn 2016. I have already posted about the  matte lipsticks, so here are all the other products. The photo above is actually from the brand's Facebook page.
Brow Quickie Brush-On Fiber Gel ($22)
Brush-on fiber gel technology mimics real hair to shape and plump up brows with just one sweep. The buildable formula fills in missing gaps, while adhering to skin and hair for full, thick, naturally defined brows.
Available in Universal Taupe and  Universal Brunette
Totally Cute Eye Shadow Collection ($39)
9 brand new shades in go-to neutrals and pops of colour
Step-by-step, how-to Glamour Guide with 3 beauty looks to get you started
Limited edition, Totally Cute sticker collection to customize your palette from illustrator and graphic artist @iscreamcolour.
Sketch Marker Liquid Art Liner ($20)
Inspired by Japanese Calligraphy Pens. Its formula acts as an artist's best drawing ink, created to be exceptionally smooth, vivid, waterproof and ideal for lining eyes.
Available in: Deep Black, Charcoal Black, Deep Espresso, Smokey Emerald, Deep Navy, Steel Blue, Sky Blue, Deep Lilac,  Candy Pink, Papaya Peach, Canary Yellow and  Pure White.
Lip Injection Glossy Juicy Color Plumping Lip Gloss ($22)
Lip plumping formula with colour.
Available in: Angel Kisses (Pale Pink), Milkshake (Nude), Spice Girl (Pink Nude), Babe Alert (Peach), Let's Flamingle (Watermelon Pink) and Like A Boss (Orchid).
Born This Way Concealer Naturally Radiant Concealer ($28)
"Instantly hide imperfections, vanish the appearance of dark circles, and blur the look of lines and wrinkles for complete coverage so undetectable, they'll think you were Born This Way." Available in 10 shades.
You can get Too Faced  from  from Sephora and Debehnams.