During the lock down, I've decided to research some smaller/independent British brands, and get some things from them. So today I want to share the results with you, and I will start with the Welsh brands. I have chosen 6 to feature.  And there will be 2 parts, as, otherwise,  the posts would be too long.
So get yourself a cup of Glengettie, stick on Tom Jones (sex bomb, sex bomb, you're my seeeex boooom ) and have a read.
Catherine Zeta-Jones would approve!
All the photos of the beauty that is Wales are by me, promo photos of the products are from the  brands.
The  Good Wash Company website
This is quite a new brand founded just in 2018 in Barry by Mandy Powell, an ex Welsh International Hockey and Touch Rugby Player and Kelly Davies, a former Wales and Professional Footballer.
Shown: Soap £6.50; Good Bath Oil, £9.50; Glân Hand Sanitiser, £5;  Luxury Soy Wax Candle, £17
Not only it looks super chic and high end,  and  'totally lysh' (lush in English), as the ladies describe it but the brand also supports some good causes. You can read more about them here.  The aim of the brand, according to the founders was to create a  "luxury Welsh brand with a humble social conscience".
This brand feels like a child of Aesop/Grown Alchemist and Le Labo (packaging wise) but for like half of the  price.
I showed this brand to my [Welsh] husband and he had one of his Cymru and byth moments, and got us two things to try straight away; which you could already see on my Insta.
The Good Wash Company is also great for those who love/have dogs, as they have some cool products to spoil your pup.
If you  are still not convinced, I will repeat that the brand comes from Barry. And, not gonna lie to you,  if the home of Vanessa Shanessa  Jenkins is not selling it to you, I don't know what else would, alright?
 FARMERS Welsh Lavender  here
Shown: Travel Wash and Lotion, £12;  Tea Towel Ukrainian Vintage Linen £20
This is honestly a dream brand for me. I am obsessed with lavender, and  loved everything so much! The website, the social media, the design, the look of the products.  Not only I want all of their beauty products but also most of the lifestyle offerings. And I would visit the fields and book the glamping there right away. And, considering how many beauty products I see on a daily basis, this says a lot.
I am very impressed, and will definitely get something, once I manage to set my mind on what I want to try first.
And, I will most definitely visit the fields which are in Powys, Wales LD2 3HU
Below you can see the lavender in nana's garden and my pathetic attempts to grow some. Green Fingers is clearly not my middle name. But one day I will have lots of lavender in my garden, too.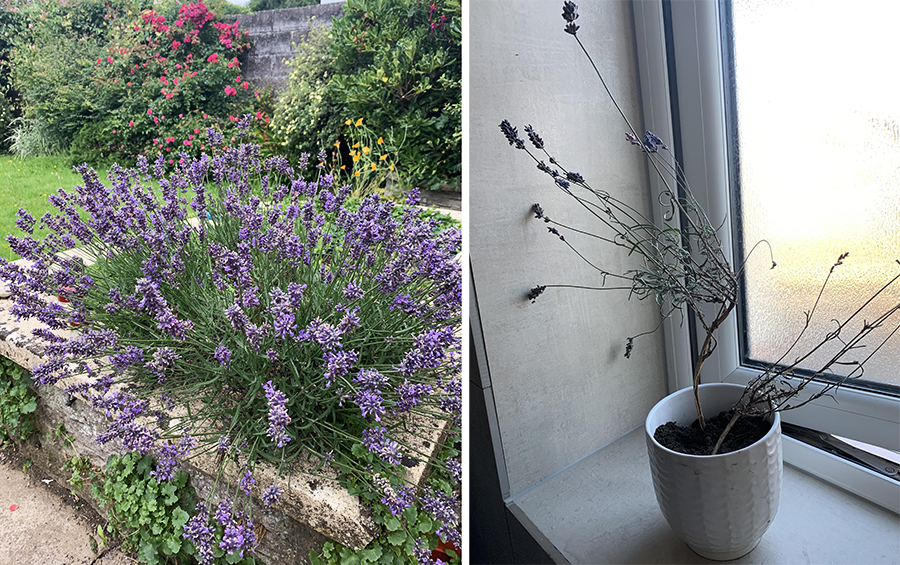 Cole & Co here
The last brand for today is a family business from  Beaumaris, Anglesey, and it is affordable fragrant beauty range.
​
Shown: Tea Rose Soap, £4; Lime, Mandarin & Basil Room Spray £9.50; Fig & Cassis Hand & Body Cream, £8.50.
It caught my attention because I am slightly obsessed with Anglesey. I have not been there yet but it is like a dream destination for me.  And also, of course, because they have such lovely and affordable products.
I have smelled a few lines, and really loved everything. There are quite a few options, and something for everyone. From a rose scented soap to a fig body cream. And don't forget room sprays and diffusers, as well, as body and hair products.
The brand is so successful that they now have a second shop in Cardiff.
Unfortunately, the products I wanted to get were out of stock so I will have to wait.
Grace Coddington was born in Anglesey; Anglesey salt which I love.
I really hope  you've enjoyed reading this, as much as I've enjoyed researching and putting this together.
Let's show these brands some love together! 
Also, don't miss part 2 coming your way later this week x