I've posted this beautiful promo  image but do you want to know more about this Bourjois Spring 2011 makeup collection?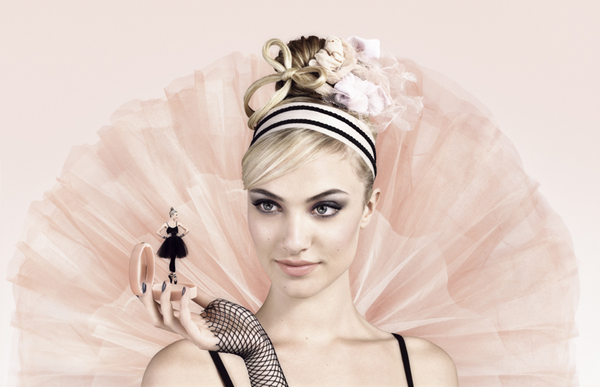 I've got all the details! This collection will include:
Little Round Pot eyeshadow (£5.99/€8.99)
Effet Smoky pencils(£4.99/€7.99)
77 Sand Rose
78 New Wave Blue (on the photo)
76 Ultra Black
I adore These. read my review and swatches of all the other shades here.
Volume Glamour Mascara (£7.99/€10.99)
06 Noir ébène (on the photo)
Effet Smoky Touch (£6.99/€9.99)
Sweet Kiss Naturel (£7.99/€11.99)
11 Rose Innocence
13 Rose Passionné
So Laque Ultra Shine (£5.49/€7.99)
36 Rose Satin
37 Bleu Asphalte (shown)
Now you can also get  vintage Bourjois  blushes which come in 6 designs and best selling shades.
The price is £7.49/€10.99
Le Sacré Cœur on blush Rose Coup de foudre, shade #16
La Tour Eiffel on blush Ambre d'Or, shade #32 (I have this shade, but with the last year's vintage design)
L'Arc de Triomphe on blush Lilas d'Or, shade #33 (love this one)
L'Opéra Garnier on blush Rose d'Or, shade #34
La Bastille on blush Rose Ambré, shade #74
La Colonne de Juillet de la place de la Bastille on bkush Rose de Jaspe, shade #95
This year I'd get #33 for myself and I also like the grey nail polish and all the Smoky eye Pencils, really want to get them in green in gold, too.