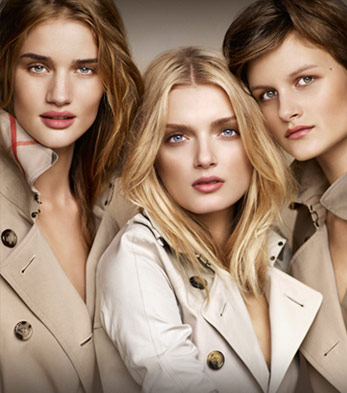 Bubrberry Beauty is here. I am a fan of Burberry so I am excited!!! Here is the whole range. This is strange but I don't know the prices fro the UK or EU, all the info and prices are from official  Burberry US website.
Face
Burberry Beauty Sheer Foundation $52
Formula: A sheer and light cream fluid. A gelled structure for optimum light diffusion.
Benefits: A subtle finish and natural glow that illuminate the skin. The skin feels beautifully bare, supple and comfortable.
Protection: Hydrating formula. Contains UV filters to protect from damaging environmental exposure.
Trench 01
Trench 02
Trench 03
Trench 04
Trench 05
Trench 06
Trench 07
Trench 08
Trench 09
Burberry Beauty Sheer Foundation Luminous Compact Foundation $55
Formula: An outstanding texture to be used dry for a sheer finish, or damp for more intense coverage. Comfortable all day long, it blends effortlessly.
Benefits: An innovative formula that protects and refines the features. Seamlessly adherent and imperceptibly smooth.
Protection: The formula keeps the skin soft and supple. Contains UV filters to protect from damaging environmental exposure.
Trench 01
Trench 02
Trench 03
Trench 04
Trench 05
Trench 06
Trench 07
Trench 08
Trench 09
Burberry Beauty Sheer Powder Luminous Pressed Powder, $45
Formula: A sheer perfecting powder. An ultrafine, smooth and adherent texture.
Benefits: Complexion is balanced, shine-free and mattified with a long-lasting finish. The micronized powders provide lightweight comfort.
Protection: Wild rose provides moisturizing benefits. Contains UV filters to protect from damaging environmental exposure.
Porcelain 01
Porcelain 02
Cheeks
Burberry Beauty Light Glow Natural Blush, $42
Blossom
Cameo
Peony
Rose
Russet
Burberry Beauty Warm Glow Natural Bronzer, $48
Get a bright and radiant finish with warm glowing skin, reminiscent of the freshness of a spring morning.
Formula: A multi-sensory texture that reproduces the skin's natural color.
Benefits: The bronzer warms the complexion to achieve a sun-kissed look. Emollient agents smooth the skin, offering a natural and healthy glow.
Protection: Contains UV filters to protect from damaging environmental exposure.
Beige 01
Beige 02
Beige 03
Beige 04
Burberry Beauty Brush, $52
A natural beauty brush made of pony and goat hair for extreme softness and precise application. Use with powders to apply all over the face, especially with the Warm Glow.
Eyes
Burberry Beauty Sheer Eyeshadow Eye Enhancer, $29
Experience natural and earthy tones reminiscent of the English countryside and adaptable to all skin tones. Color selection captures the ease and versatility of the collection and ranges from classic trench coat-inspired shades to smoky metals.
Formula: The innovative composition reconciles comfort with long-lasting wear. Light, yet creamy, this performing powder offers optimal adherence.
Benefits: Ensures a smooth application and flawless color fidelity throughout the day. From the most natural look to the most sophisticated finish.
Protection: Silicones provide extreme emollience and comfort.
Trench
White
Porcelain
Golden Ochre
Chestnut
Almond
Taupe Brown
Khaki
Rosewood
Antique Rose
Tea Rose
Rose
Lavender Blue
Lavender
Slate Blue
Pearl Blue
Grey
Black
Plum
Midnight Blue
Burberry Beauty Eye Definer Eye Shaping Pencil,$27
Formula: Combines emollient vegetal oils, natural waxes and a high concentration of pigments that respect the fragile eye area.
Benefits: Eye Definer works to outline the eyes with long-wearing and water-resistant results. It confers an easy application over the upper eyelid and on the inner-eye rim.
Protection: Silicone waxes guarantee unfailing resistance to heat and humidity.
Black
Brown
Ash Brown
Midnight Blue
Plum
Effortless Mascara Volumizing Lash Enhancer, $28
Formula: This gelled structure helps obtain an airy texture and improved color expression. Marine plant glycogen works like a natural lash extender, accelerating fiber growth and strengthening lashes.
Benefits: Fool-proof mascara for adjustable lash volume, from the most natural to the most sophisticated look. It combines thickening agents that coat each lash effortlessly along its entire length.
Protection: Protective film forms on the lash surface, shielding against humidity, rain and extreme heat.
Lips
Burberry Beauty Lip Cover Soft Satin Lipstick ,$30
Discover supple and light colors that reflect the natural lip tones. Formulas are hydrating and give a full lip in tone, coverage and color fidelity.
Formula: Super-light 'second skin' texture provides intense moisture immediately after application. Combination of oils and light waxes helps easy application and extreme comfort.
Benefits: Pigments dispersed in a clear gelled structure ensure high color fidelity. Shiny polymers offer perfect luminosity. Balanced color palette from nude trench tones to Burberry reds.
Protection: Contains anti-aging ceramides for fuller lips. Guarantees continuous hydration. Contains UV filters to protect from damaging environmental exposure.
Mocha
Nude Beige
Cameo
Cameo Pink
Rosewood
Heather Pink
Nutmeg
Tea Rose
Blush
Rose
Antique Rose
Sepia
Heather
Purple
Plum
Claret
Union Red
Ruby Red
Brick Red
Hibiscus
Burgundy
Lip Glow Natural Lip Gloss ,$27
Formula: A creamy touch and perfectly adherent texture. Light oils and spherical powders give fluidity and comfort.
Benefits: Reflects light to create illusion of plumper, fuller lips. Leaves lips supple, glowing with natural highlights and subtle iconic tones.
Protection: Ceramide complex recreates the intercellular cement. Hydrating formula keeps the lips replenished. Fine lines are filled from within, lips are naturally plumped.
Red
Rosewood
Heather
Sepia
Blus
Tea Rose
Cameo Pink
Cameo
Nude Beige
Nutmeg
Rose
Mocha
Lip Definer Lip Shaping Pencil,$27
Formula: A delicate texture with high concentration of natural waxes and vegetal oils to give suppleness to the lips.
Benefits: An ultimate soft and smooth gliding liner that effortlessly defines the lip line. Extremely adherent, soft and moisturizing, it wraps the lips in naturally even color.
Protection: Amino acidic derivative with hydrating power improves firmness around the lip contour.
Nude Beige
Rose
Sepia
Bright Plum
Brick Red
Nutmeg
So what do you think about the range and design? I like it! But I can't wait for the highlighter and I'd love to get some nail polishes, too.