In the ever-changing makeup world with all the new launches and re-launches, it is good to have some stability. Something like a product from the 80s which is still on the market today.
And I am talking about Chanel's Joues Contraste blush here. It is a true icon! For me personally, it is still the ultimate luxurious blush, and I have real sentiments attached to it. That is because JC was one of the first luxury makeup items I've ever bought many years ago.
In fact, I have a feature from 2010 where I talk about one of the shades I have.
It's just mad how the things in the beauty industry have changed with everyone and their nan launching a brand and the prices sky rocketing (£63 Hermes blush, anyone?)
On the contrary to all of the above, it's great to see some consistency from Chanel. Of course, they have brought many new and innovative products but I am extremely pleased that their good ol' Joues Contraste powder blush is still with us.
Joues Contraste comes in a luxury black compact with a white Chanel logo. You also get a little brush which is an ok brush, as far as the brushes from the compacts go.
The Formula
It has a lovely silky and smooth formula which goes evenly on the cheeks. You get that beautiful and radiant glow-from-within glow, a healthy flush which lightens up the complexion. Although it is a powder product, it doesn't sit on top of skin but rather looks like genuine flush. As a result, you get that well rested youthful effect!
The Shade
440 Quintessence is described as a "medium pink with warmer undertones and a mostly matte finish" . And you can see from the swatch below – it is just that.
I find that it also looks great on the eyes, and brings the whole look together when used as en eye shadow, too. Quintessence is a fabulous colour all year round but especially in the summer. This blush, a bit of highlighter and mascara – and you are ready for that summer night out!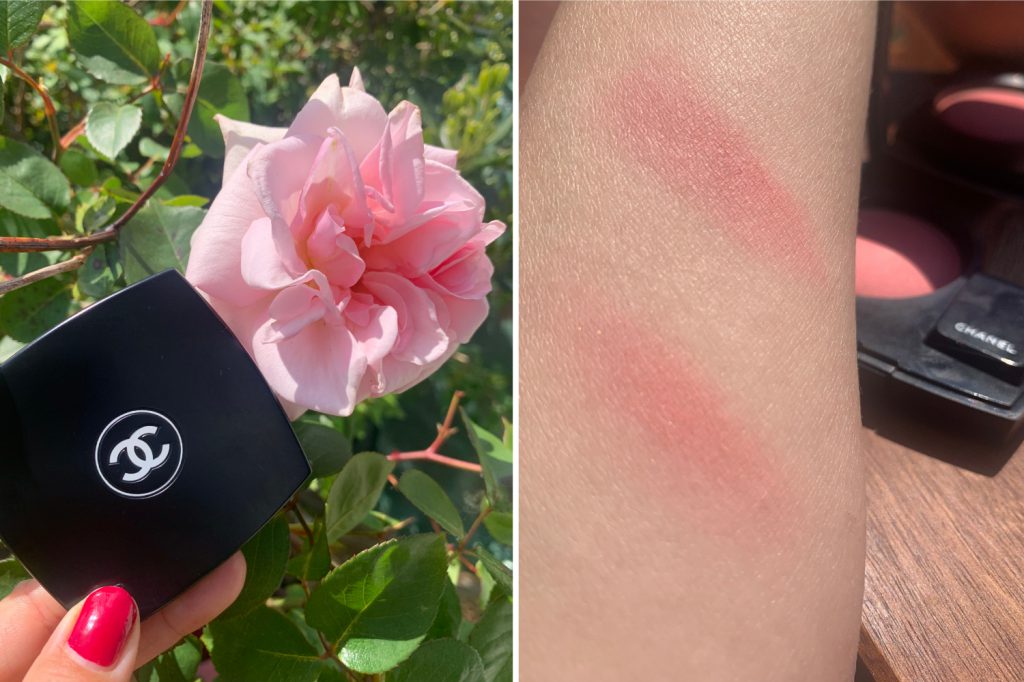 It is also important to mention that Joues Contraste has that rose scent, which I like to call "Nana's rose", and absolutely love. However, some may not appreciate that.
For all of the reasons above, I am a big fan of the JC blushes, and hope they will never be discontinued. As no matter how many new ones I try,
Joues Contraste will always have a place in my collection.
On top of it, £37 for a high-end blush is not that much these days. You can get yours from John Lewis,Selfridgesand Nordstrom.