While my latest "Beauty Purchases" post was about  affordable makeup and hair care products, this time it's all about the skincare, and things are more on the luxury side.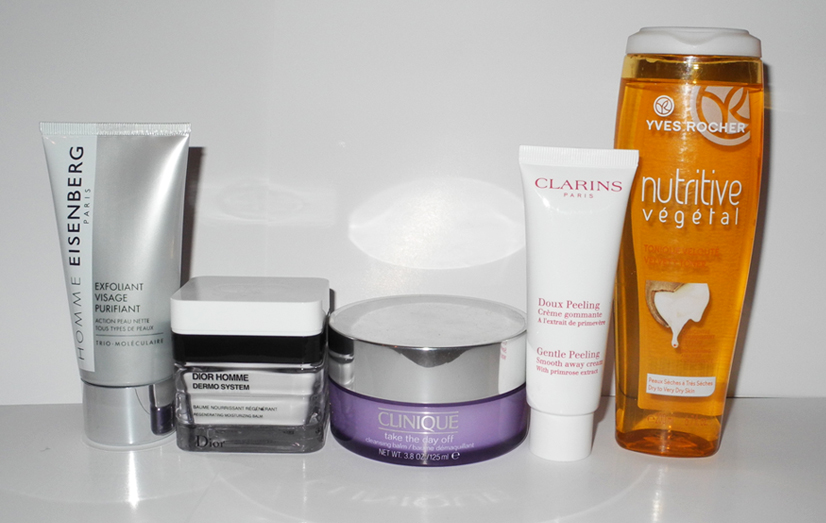 1. Eisenberg Homme Exfoliant Visage Purifiant
It makes me think of Breaking Bad, just add H 😉  I have never tried anything from this brand and was never really drawn to it, mostly because it has similar prices, as Dior or Chanel, for example. But the brother wanted to try this face scrub. I hope he likes it…
2. DIOR HOMME DERMO SYSTEM Regenerating Moisturizing Balm
This range should be amazing, plus this cream was highly recommended by my favourite sales assistant. All the things she recommends are always amazing.
3.Clinique Take The Day Off Cleansing Balm
This was an impulse purchase. I just saw that there was only one left, so had to get it. So far I really like it, will write a review  in the future, so stay tuned.
4.Clarins Gentle Peeling Smooth Away Cream
A Clarins product, what a surprise, right? I was browsing their counter and realized that I have never tried this one, so just got it. I am on a mission to try all their products that are suitable for my skin type, almost there.
5.  Yves Rocher  Nutritive Vegetal Velvety Toner for Dry and Very Dry Skin
I've finished my favourite Clarins toner, and wanted to try something new, before re-purchasing it. Since I've heard some great  things about the Yves Rocher one decided to give it a try, so far I am impressed.
I have also picked up Garnier Micellar Water recently and want to get a new Lush shower gel this week.