Remember I did a post about foundations?
Since a lot of you asked for more details, here is the official information about some of them:
Tom Ford Traceless Perfecting Foundation SPF 15, $80
"The Traceless Perfection Foundation is a natural-finish, longwearing, humidity-resistant foundation that hydrates and evens your skin tone, creating a flawless, supple, poreless canvas with medium-to-full coverage. Its formula includes the nourishing Tom Ford Infusing Complex to help smooth and renew skin while helping diminish the appearance of fine lines and wrinkles."
Available in 15 shades from Nordstrom, Neiman Marcus, Bergdorf Goodman.
 Cle de Peau Radiant Fluid Foundation SPF 24, $125
"Radiant Fluid Foundation is a liquid foundation with added SPF 24 sun protection that gives your skin a dewy, lustrous finish and creates a glowing veil of beauty, revealing vibrant luminosity that transcends the natural look of skin. It contains the Illuminating Complex, which is a powerful moisture-stabilizing force that promotes exquisite radiance. The foundation also resists dullness, wear and changes in color throughout the day to help you retain a beautiful, smooth finish."
There are 12 shades to choose from and it's available from Nordstrom and Barneys.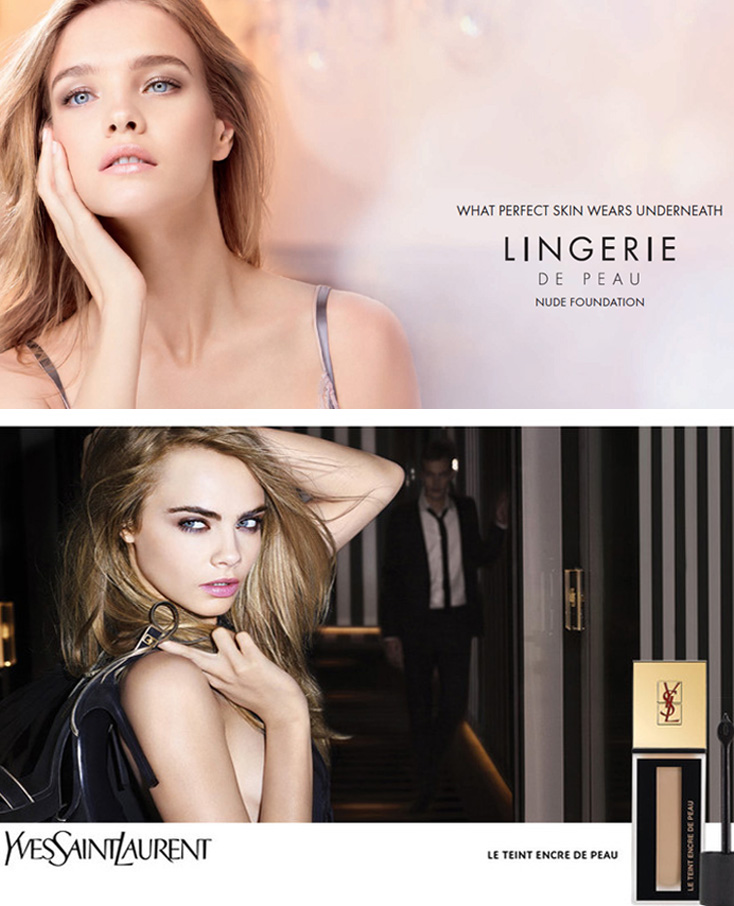 YSL Fusion Ink Foundation, $60
" Feels like a feather. Wears like an ink. No more compromise.24 hours of soft-matte perfection and comfort. Our exclusive fine-as-ink formula perfects the skin yet wears weightlessly all day. Never cakey or heavy. Feel the difference of all day perfection and freedom."
Available in 21 shades from Barneys.
Guerlain Lingerie de Peau Powder Foundation Compact £41 / €57
"Guerlain has created its first powder compact, so creamy that it literally becomes one with the skin. Truly evanescent and absolutely impalpable, Lingerie de Peau Powder Foundation leaves the complexion perfectly velvety smooth, while maintaining its moisture levels. Like a sensual second skin, the creamy velvety texture leaves nothing but an ultra-comfortable luminous powdery veil on the skin, so breathable that you forget it is there."
The shades are: 01 Beige Pâle / Pale Beige**, 02 Beige Clair / Light Beige, 03 Beige Naturel / Natural Beige, 04 Beige Moyen / Medium Beige, 05 Beige Foncé / Dark Beige*, 12 Rose Clair / Light Rosy, 13 Rose Naturel / Natural Rosy*, 32 Ambre Clair / Light Amber**
** Asia only; *INTL only
Will be available from September from Selfridges and Nordstrom etc.