Here is the preview of two new MAC collections.
Temperature Raising with a limited edition special design with a lot of products and hot summer-y promos:
Lipsticks (£15.50)
Altered Beige, Creamy yellow beige (lustre)
Feel My Pulse, Vivid magenta violet (cremesheen)
Sheer Seduction, Super dazzle bronze (dazzle)
Caliente, Super dazzle violet (dazzle)
Lipglass (£15.50)
Liquid Passion, Creamy nude
Soft Serenade, Mid-tone neutral pink with pearl
Rhythm, Vivid magenta violet with pearl
Underdressed, Bronze plum with multidimensional pearls
Rich Glance, Light gold
Copper Strip, Frosty mid-tone copper
Life's Luxury, Deep bronze brown
Polished Jet, Charcoal with pearl
Eyeshadow Quads (£38.50)
Bare My Soul: Bare My Soul, Frosted gold (lustre), When in Rio, Deep green with copper pearl (frost), Friendly Deep, bronze chocolate (veluxe pearl), Romantico, Light taupe bronze (veluxe pearl).
Temperature Rising: Circus/Performance Art, Frosted gold mauve (veluxe pearl), Swelter, Mid-tone grey violet (frost), Temperature Rising, light warm tanned peach (lustre), Beauty Marked, Charcoal black with red pearl (velvet).
 Powder Blush (£19)
Ripe For Love, Mid-tone peach (satin)
Hot Nights, Mid-tone berry pink (frost)
Nail Lacquer  (£11)
Scorching Haute, Super glitter magenta (frost)
Tropical, Super glitter bronze (frost)
 Bronzing Powder  (£20)
Soft Sand Golden bronze with fine gold pearl
Refined Golden Finely spun golden with soft pearl finish
Pro Longwear Bronzer   (£24)
Nude On Board, Bronzy yellow tone
Sun Dipped, Dirty red tone
Strobe Liquid, ( £22.50)
Bronzing Oil ( £17.50)
Man Rays, Glowing tan with multidimensional golden shimmer
Brush (£26)
There is also an All About Orange collection.
Which, as you can guess is very summer appropriate with all the orange hues.
Lipstick (£14):
Razzledazzler., Light cream peach (lustre)
Sweet & Sour, Soft peach cream (cremesheen)
Tangerine Dream, Warm orange cream (lustre)
Flamingo, Light milky bright coral (lustre)
Sushi Kiss, Mid-tone coral cream (satin)
Tart & Trendy, Bright neutral orange cream (lustre)
Neon Orange, Bright clean orange (amplified)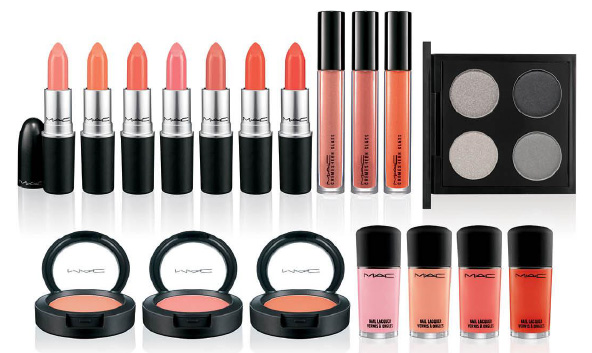 Cremesheen Glass (£17)
Double Happiness, Frosted light nude
Imperial, Light Frosted light peach
Rising Sun, Frosted bright orange
Eye Shadow quad  (£35)
Rainy Season: Arctic Grey, Frosted mid-tone gray (lustre), Courtly Grey, Matte cool gray (matte), Typographic Asphalt, black (matte), Rainy Season, Light warm gray frost (satin)
 Powder Blush  ( £17.50)
Honey Jasmine,, Soft warm coral (satin)
Royal Sunset, Soft cool peach (satin)
Immortal Flower, Bright peach (satin)
Nail Lacquer ( £10)
Ke Ai, Soft pink frost (frost)
Sweet Pop, Peach cream (cream)
Fiestaware, Mid-tone orange coral (cream)
Morange, Bright cream orange (cream)
Both collections are already available.